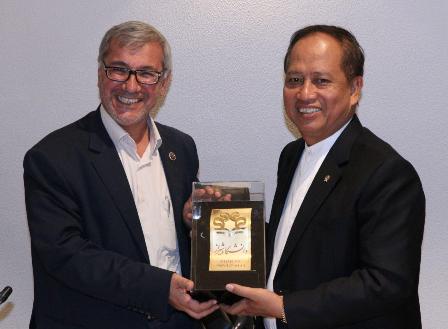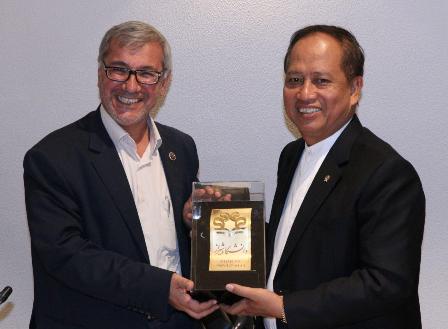 Indonesian Minister of Research, Technology and Higher Education Mohammad Nasir called for promotion of Tehran-Jakarta scientific relations to higher levels, saying his repective country is keen on boosting scientific relations in various fields with Iran.
Nasir, currently in Iran at the head of a high-ranking delegation of higher education officials, expressed pleasure over his visit to the University of Shiraz, in Fars Province, southern Iran.
He hoped that his trip will prepare suitable ground for scientific collaboration between the University of Shiraz and Indonesian universities.
There are suitable conditions for mutual cooperation in different fields including transportation, science, agriculture, information technology, nanotechnology, biotechnology, aerospace, renewable energies, solar energy and pharmaceuticals activities, he said.
The Indonesian minister added that bilateral collaboration between the two capitals can be pursued in from of joint research works and exchange of instructors and students.
During the meeting, deputy chancellor of the University of Shiraz referred to certain capabilities and capacities of the university, saying that based on Times International Institute's ranking, the Shiraz University is considered the best comprehensive university of Iran and it is also the first in the Nature Index Scientific Institute's ranking.
Aeyyed Ali Akbar Safavi further noted that over half of the top scientists of the Islamic world are engaged in teaching and research in the University of Shiraz, indicating that the higher education center is abiding by academic values.
The University of Shiraz has concluded various scientific agreements with different countries, as promoting international scientific activities are on its agenda, he said.
He voiced the readiness of University of Shiraz for transferring experience to its Indonesian counterparts.
Safavi further hoped that Indonesian minister's visit will serve as a milestone for upcoming breakthroughs between the two countries.