Syria
Infiltration attempt from Lebanon foiled, truck loaded with 1.5 ton of explosives destroyed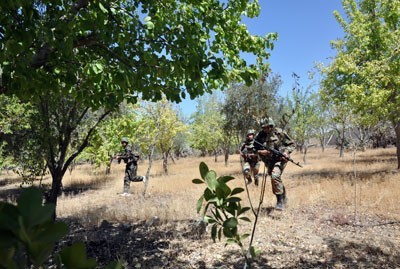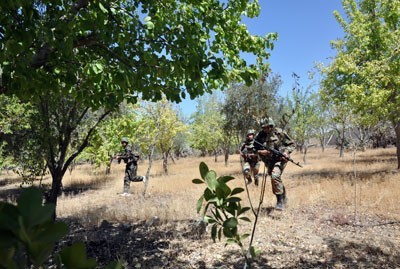 A unit of the armed forces on Wednesday killed numbers of terrorists in the towns of al-Shabraq, Saisoun, Tseel and Jelin in the countryside of Daraa, a military source said.
The source added that the terrorists weapons and ammunition were destroying, pointing out that Shadi Atallah al-Na'san and Hassan Ismael al-Mardini were identified among the dead.
Other army units, the source said, continued hunting terrorist groups' members in a number of neighborhoods in Daraa al-Balad, killing many of them, including Bassel Mohammad Mustafa al-Qteifan.
An Army unit confiscated 34 anti-tank landmines in a terrorist hideout in Daraa's western countryside, eliminating a number of terrorists including Mohammad al-Kharyoush.
Terrorists set fire to Syriac Church in Deir Ezzor city
Terrorists affiliated to Jabhat al-Nusra on Wednesday set fire to al-Wahdah Syriac church in Deir Ezzor city.
An official source told SANA that an armed group affiliated to Jabhat al-Nusra set fire to the church's building. The church's furniture and contents went up in flames.
An army unit also clashed with armed terrorist groups which attacked citizens and their properties in al-Jbeileh neiborhood and al-Merieh village, killing and injuring their members.
The attack against the church is not the first, as terrorists previously targeted the Latin Church in Deir Ezzor with a car bomb, causing great material damage to it.
Army eliminates Jabhat al-Nusra terrorists, destroys workshop for manufacturing IEDs in Damascus Countryside
Army units eliminated two leaders of terrorist groups: Samer al-Hazaqi and Mohammad al-Awari, during operation in Deir Salman farms in the eastern Ghouta area of Damascus Countryside.
Army units pursued the terrorist group led by Abu al-Laith al-Shabaani in the village of al-Bayyad in al-Ghizlaniye area, eliminating a number of its members and destroying a bulldozer they had been using to build dirt barricades on roads.
In the town of Erbin, a weapons and munitions cache was destroyed and terrorists from Jabhat al-Nusra were eliminated including Tarek al-Zein and Ali Arabi.
An Army unit clashed with a terrorist group in Jobar, killing a number of its members including Samer Jiha, Omar al-Sallakh and Omar al-Hawwash, while a second unit destroyed a mortar launcher and a workshop for manufacturing IEDs in the town of Harasta.
Army units established full control of the western mountains bordering the town of Halboun in al-Tal area, destroying the terrorists' hideouts in the mountains' caves, eliminating and injuring many terrorists, and blocking off the roads used by terrorists to attack the town.
Army units also established full control over the town of al-Bahdaliya south of Sayyeda Zainab area in Damascus countryside after a series of operations targeting terrorist hideouts, which resulted in destroying the hideouts along with the weapons and munitions inside them.
The operations also resulted in the elimination of terrorists including a terrorist leader called Hasan Ibrahim al-Numairi, Dalal Mtallek, and Abdelsalam al-Muajjel.
Terrorists killed in Damascus countryside…Citizens in Douma protest against terrorism
Army units killed terrorists and destroyed their dens in Alia farms, Adra and al-Dmeir in Damascus countryside.
An official source told SANA that members of an armed terrorist groups were killed and others injured in Alia farms in Douma, among them the terrorist Osama Majid, nicknamed Abu Yasser.
The source added that army units clashed with terrorist groups near 'Sar' and 'Omo' detergents factories in Adra, killing a number of their members, among them Omar Ataya and Mohammad al-Kazzaz as another unit killed several terrorists in al-Dmeir, among them Khaled Kasar.
Hundreds of citizens in Douma took out to the streets in protest against the terrorist acts of armed groups and demanded the expulsion of terrorists from their city and from eastern Ghouta in Damascus countryside.
SANA quoted a local in Douma as saying that hundreds of Douma citizens have been protesting over the past three days in the Municipality roundabout and al-Jalaa' street in the center of the city, demanding the expulsion of the armed terrorist groups from the city and putting an end to their terrorist acts and the state of chaos and lawlessness there.
Army destroys vehicle loaded with 1.5 ton of explosives in Hama
In another context, an army unit foiled an attempt by a suicide bomber to detonate a truck loaded with 1.5 ton of explosives in al-Ghab area in the countryside of Hama.
SANA reporter quoted a military source as saying that the army unit blew up the truck near al-Touta Bridge before it reached a military point.
The explosion resulted in the killing of the bomber, but no casualties were reported among citizens.
Army pursues terrorists in Aleppo and its countryside
Army units continued operations against the dens and gatherings of terrorists in Aleppo city and its countryside, destroying a number of heavy machineguns and two mortar cannons.
An official source told SANA that numbers of terrorists were killed in the area surrounding al-Akida factory in al-Mansoura and north of al-Rasafa cotton gin in al-Layramoun, in addition to destroying dens for armed terrorist groups in the vicinity of Kweires airport, with the weapons and ammunition inside.
The source added that army units clashed with terrorists in al-Ameriah neighborhood and thwarted terrorist groups' attempts to sneak into safe areas in Salaheddin, killing a number of their members.
The source added that two mortar cannons and heavy machineguns were destroyed in al-Sheikh Khodor area in Aleppo city. Numbers of terrorists were also killed near Jamal mosque in al-Kallaseh and behind Souk El-Hal in Bustan al-Qaser.
Army units destroyed terrorists' dens in al-Sakhour neighborhood and near Saad bin-Maaz mosque in Bustan al-Basha neighborhood with the terrorists and weapons inside them.
Army foils terrorists' infiltration attempt from Lebanon in Homs
A military source told SANA that the army targeted a terrorists' gathering near the village of Talaf in al-Houla countryside and Helmet Qara in Huwara area in Jousieh, Homs countryside, destroying all the weapons inside it, among them heavy machineguns, and killing all terrorists inside it.
The source added that units of the armed forces continued pursuing armed terrorist groups near al-Kabab café, west of al-Hir al-Sharqi Palace in Palmyra countryside, and destroyed two bomb cars and heavy machineguns.
Another unit of the armed forces destroyed a number of terrorists from 'Mu'ta Brigade' on al-Taybeh-al-Skhnieh road in Palmyra countryside.
Meanwhile, an army unit foiled an attempt by an armed terrorist group to infiltrate from Lebanon towards al-Tahouneh area in Talkalakh countryside, inflicting heavy losses were upon the terrorists.
Saudi terrorists eliminated in Lattakia
The army targeted a hideout for terrorists affiliated to Jabhet al-Nusra in al-Sukkariyeh village in Lattakia countryside.
An official source told SANA reporter that scores of terrorist were killed, among them were Saudi terrorists. Those were Ouad al-Ramli, leader of a terrorist group, Jasem al-Ajmi and Makki al-Tamimi.
Army units eliminate terrorists in Idleb countryside
Army units destroyed gatherings and hideouts of terrorists in the areas of Hallouz, al-Aliya, al-Janoudiya, Majdalia, Taoum, Taftanaza, Saraqeb, Maartamsrin, Sarjeh and Zaradna in Idleb countryside.
An Army unit inflicted heavy losses upon terrorists in al-Tamani'a, Jarjanaz and al-Tah in Ma'aret al-Nu'man countryside, while another unit killed and injured terrorists who were committing acts of murder and robbery near the central prison.
Terrorists killed, others injured in clashes between armed groups in Deir Ezzor
Scores of terrorists were killed and injured when clashes broke out due to disagreement over dividing goods and money that they stole from citizens and service institutions in Deir Ezzor city.
An official source told SANA that the fighting broke out between terrorists from Jabhat al-Nusra and a terrorist group called "Al-Mustapha Battalions" in al-Sheikh Yassin neighborhood in Deir Ezzor city. Scores of terrorists were killed and injured in the clash.