Iran
Iraq
Islamic Unity
Middle East
Influential Iraqi cleric condemns mob vandalist attack on Iran consulate in Najaf
Influential Iraqi cleric Muqtada al-Sadr has condemned an arson attack on the Iranian consulate in Najaf, dismissing allegations that his followers were behind the Wednesday incident.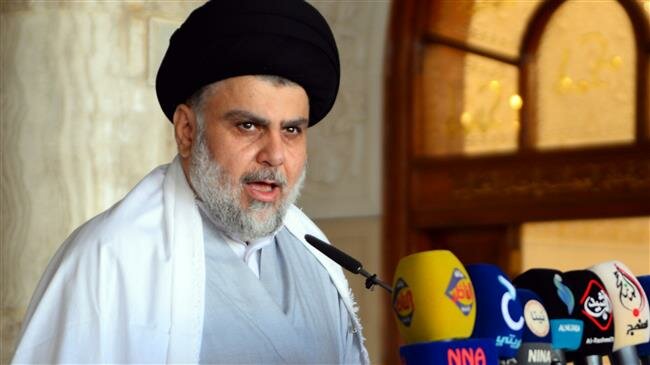 "We condemn attacks on diplomatic missions, because such acts are not characteristic of the Sadr Movement," Muqtada al-Sadr was quoted as saying by Iraq's Al-Ahad TV.
His comments came after a group of masked assailants stormed the Islamic Republic's diplomatic mission in Najaf and set it ablaze on Wednesday night.
They also took down the compound's Iranian flag and replaced it with an Iraqi one.
Iraq's foreign minister on Thursday called his Iranian counterpart Mohammad Javad Zarif to apologize to Iran over the incident.
Mohammad Ali al-Hakim told Zarif that Baghdad was committed to protecting Iranian diplomatic missions and their staff in the Arab country.
Iraq apologizes to Iran for arson attack on consulate in NajafIraq
Iraqi PM orders probe
Iraqi Prime Minister Adil Abdul-Mahdi has also ordered the formation of a fact-finding committee to probe the attack on the Iranian consulate, al-Forat News reported.
He had earlier appointed Major General Ali al-Hashemi as the new security chief of Najaf province following the mob attack.
Arson attack aimed at severing Iran-Iraq ties
Iran's Ambassador to Baghdad Iraj Masjedi on Thursday blamed the arson attack on certain Iraqi and non-Iraqi elements, and described it as a move to undermine good relations between the two countries.
The torching of the Iranian consulate in the holy city of Najaf was definitely aimed at severing brotherly relations between the two Muslim and neighboring countries, he said, adding that the friendly relations have outraged certain regional states.
Masjedi noted that such moves by a small group of assailants in Iraq do not reflect the Iraqi nation's view of Iran, as the majority of Iraqis have repeatedly shown their opposition to such acts and their love for the Iranian nation.
Iraqi MPs blame foreigners
The Iraqi Parliament's Foreign Relation Committee blamed foreign parties for torching the Iranian consulate in Najaf, and urged security forces and the government to make further efforts to make a distinction between the real protesters and mercenaries.
Badr al-Ziadi, a deputy head of Iraq's Sairoon coalition and a member of the Iraqi Parliament, said the only party that benefits from chaos in Iraq is the Israeli regime.
Saudi denies threatening Iran with 'worse'
One day after the arson attack, Saudi Ambassador to Egypt Osama bin Ahmed Nuqali threatened the Islamic Republic with "worse", as quoted by Arabic newspaper Anba'a al-Youm.
"What happened last night to Iran's consulate in Najaf was the result of what Iran has committed and they should wait for more reactions," Nuqali was quoted as saying. "What comes next won't get any milder than this."
Saudi diplomat threatens Iran with 'worse' after Najaf consulate attackA day after rioters set fire to Iran
However, the Saudi embassy in Egypt has dismissed the comments attributed to the ambassador, the state-run newspaper Okaz reported.
"The news of Saudi Envoy to the Arab League Osama bin Ahmed Nuqali's interview is incorrect and groundless, because he has had no interview with any Egyptian or non-Egyptian recently," the report said.
The Saudi embassy said it was a source of regret that such remarks are fabricated, especially regarding the ongoing developments in Iraq.
"This is against the Saudi policy of respecting the sovereignty and independence of countries and not interfering in these countries' internal affairs in any way," it added.