Palestine
Inhuman occupation forces causes serious spinal injury to Gazan child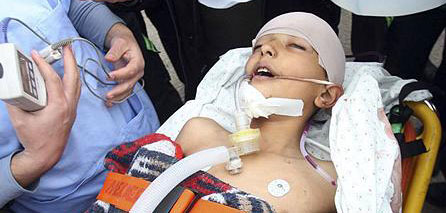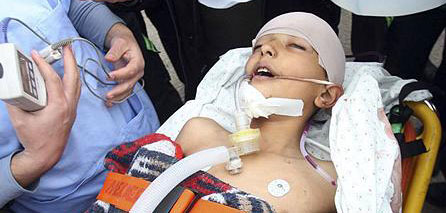 A Palestinian child suffered serious spinal injury and became paraplegic after he and two of his little brothers came under fire a few days ago from Israeli soldiers to the east of Deir Al-Balah district in the Gaza Strip.
According to Al-Mizan center for human rights, the Israeli occupation forces (IOF) last Friday evening opened machinegun fire at three child brothers, namely Mohamed Abu Shehadeh, 16, and his brothers Bashar, 14, and Jaber, 5, during their presence in an agricultural land located 350 meters away from the security fence to the east of Deir Al-Balah.
The children were collecting hay from a field owned by a Palestinian citizen from Deir Al-Balah when the IOF opened fire with no reason.
The eldest of the three brothers, Mohamed, suffered a serious internal injury when a bullet hit his right shoulder and penetrated deep into his body, cutting his spinal cord and causing vertebral damage.
When one of their uncles arrived at the scene and attempted to save the kids, the IOF also opened fire at him and fired some artillery shells at the area. Fortunately, the two other children were evacuated safely from the area.
The wounded child stayed at the area for about one and a half hours before a Red Cross ambulance was able to drive him to Shuhada'a Al-Aqsa hospital. Because of the seriousness of his condition, he was later transferred to Shifa hospital in Gaza city.