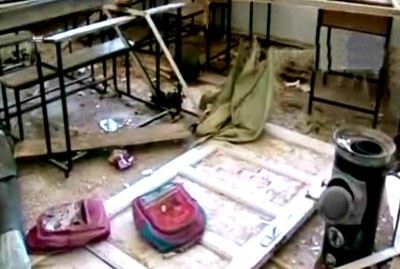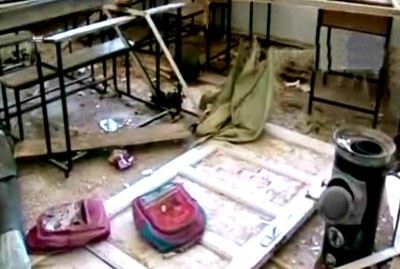 Around 20 civilians, most of them students and teachers, were killed in a suicide car bomb that targeted the schools compound in Um al-Amed town in Homs countryside.attack on school
A military source told SANA reporter that the blast was perpetrated by a suicide terrorist driving a booby-trapped lorry as he detonated it outside the schools compound in the town while students were having classes in their schools.
The source pointed out that the terrorist blast also caused the injury of dozens of students and teachers and huge material damage to the schools and infrastructure.
12 citizens were also martyred, including 3 children, and others were injured in terrorist mortar attacks in Daraa city on Sunday.
A source at the Police Command told SANA reporter that two mortar shells launched by terrorists fell near al-Bishara Church, claiming the lives of 8 citizens and injuring others.
The source added that terrorists mortared a government compound with three shells in Daraa city, killing 4 citizens, in addition to heavy material damage in the compound.
In al-Qassaa neighborhood in Damascus, one citizen was martyred and two others were injured in a terrorist mortar attack.
A source at the police command told SANA reporter that a mortar shell launched by terrorists slammed an area near the Arab Bank in al-Qassaa neighborhood, causing the martyrdom of a citizen and the injury of two others, in addition to material damage to 14 cars parked nearby.