Syria
Inhuman Terrorists raze Muslim holy site in northwest Syria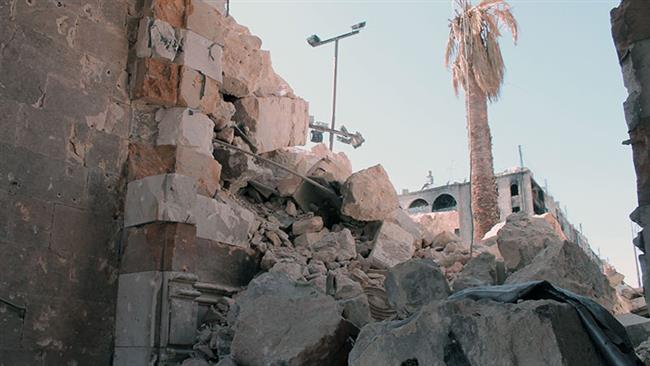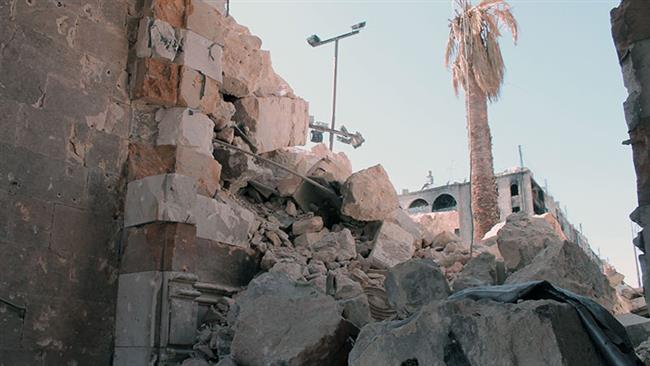 Foreign-sponsored Takfiri militants have destroyed the centuries-old mausoleum of a Sufi Muslim saint in Syria's troubled northwestern province of Aleppo.
Hessam Hout, a religious scholar, said on Sunday that Takfiris have razed the shrine of Sheikh Muhammad al-Nabhan in the provincial capital, which is located 355 kilometers (220 miles) north of the national capital, Damascus, Syria's official SANA news agency reported.
Syria's invaluable cultural heritage is in serious danger as the country's artifacts are either smuggled across borders or destroyed at the hands of ISIL terrorists.
Hout further noted that the terrorists also vandalized the seminary's library, which contained hundreds of books. The Takfiri militants also broke into a number of neighboring houses and looted people's properties.
Foreign-backed Takfiri militants, who are fighting the Syrian government, have launched a systematic campaign to damage and destroy the country's historic sites in an attempt to erase Syria's rich cultural heritage.
The United Nations has announced that Takfiri terrorists have already destroyed or damaged over 300 Syrian historical sites.
"Terrorists and militants seizing the archaeological sites as their strongholds have caused irrevocable damage to the [Syrian] tourism," Bashar Jazmati, a Syrian tour guide, said.
Over 200,000 people have been killed in the crisis in Syria over the past nearly four years, according to reports. New figures show that over 76,000 people, including thousands of children, lost their lives in Syria last year alone.
ISIL, with members from several Western countries, controls parts of Syria and Iraq, and has been carrying out horrific acts of violence such as public decapitations and crucifixions against all communities such as Shias, Sunnis, Kurds, and Christians.