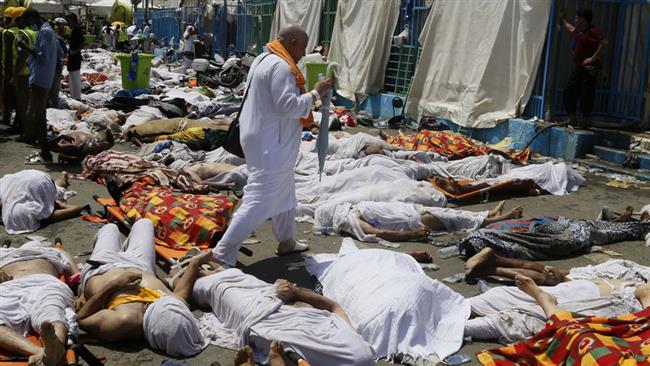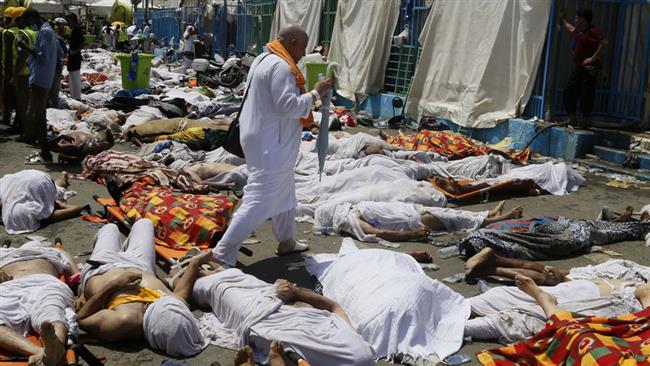 Press TV has conducted an interview with Marwa Osman, a political analyst from Beirut, to discuss Saudi Arabia's handling of the annual Hajj pilgrimage, which has come under harsh criticism after the deadly human crush last year.
Here is a rough transcription of the interview:
Press TV: How do you reflect on all that has transpired between the Mina stampede that took place last year and the fact that now Iran has not sent any pilgrimage groups to Hajj?
Marwa Osman: Let me begin by saying our disappointment now is transformed into a fury. We are furious over the fact that the Saudis are not accepting to guarantee security for the Hajj pilgrims. This is beyond unacceptable. People should listen to the letter that was issued by [Ayatollah] Seyyed Ali Khamenei and take into consideration rethinking putting the management of Hajj in the hands of Al Saud, who proved year after year that they are incapable of securing the pilgrimage for all the people who are going there to praise their lord, to cleanse their spirit.
But apparently, it is Al Saud who need that cleansing, and ASAP if I may add to that, because after the feud that happened considering what the Grand Mufti of Al Saud said depicting an entire nation as being non-Muslims, I wonder how Islamic is a nation that refuses to actually just apologize over the fact that it killed thousands of people last year in Mina and then again tens of people before that in al-Haram al-Sharif, when a huge crane crumbled down on the heads of the worshipers. They didn't even apologize to the families who lost their loved ones in Mecca and Mina.
So, I truly believe that it is now time for all of us, all the Muslims, Ummah to retake into consideration the fact that these holy sites are Muslim sites, they are not sites for Al Saud. We should not accept the fact that Al Saud should portray who should go and who shouldn't and by the way half of the Shia people who tried to take a visa for Hajj in Lebanon were denied a visa. So, it's some sort of a fight against Muslims that is going on from Al Saud by denying visas, by denying security for the pilgrims, it gone beyond unacceptable. It is practically a war against the people. If you don't abide by what Al Saud has to say about the Hajj, then you're not coming to Hajj.
Press TV: You know this better than I probably that Ayatollah Khamenei said in his letter that Iran is the only country that spoke up after the Mina stampede and the Saudis themselves of course say that Iran is politicizing the issue and that is something that many of these Persian Gulf dictatorships are saying as well. How should we feel about that the fact that it is only the Iranian voice which is coming out?
Marwa Osman: First of all it's laughable when the Saudis responded to whatever sort of denial they are at the moment. They said that Iran tries to politicize Hajj. How would people trying to go and cleanse their spirit in the presence of the holy location as Hajj and the Kaaba try to politicize the situation but what they specifically said and I quote here they protest the US and Israelis and this is unacceptable literally this is what they said by the mouth of a spokesperson from Al Saud. They are not accepting anyone who would stand and fight against the oppressors for the people of Palestine, against imperialism. They are saying that Iranians are politicizing the matter. How? If he is not about resisting, about standing with the oppressed, if it's not about standing for the righteous against the people who continuously bombard and murder especially people in the Middle East and how this person is supposed to be a real Hajj, how he was supposed to cleanse his spirit and by the way they have no say over what people would do protest or not because again this is not their land.
The Hajj is not owned by Al Saud but again when you say that the GCC claims that it's not going to give the Iranians the security, let's go back to the actual numbers before talking about the security of they refuse to acknowledge that more than 2,000 people were killed in the crash in Mina. They still say it's 169 people and all the nations have brought about their numbers and it's higher than that and specifically 400 Iranians and again let's speak about the people who were targeted in this crush. We are talking about the late martyr Ghazanfar Roknabadi who was the Iranian ambassador. He was one of the martyrs in Mina. He was the Iranian ambassador in Beirut. Just couple of months before he went to Hajj he was directly targeted in a bomb attack in his embassy in Beirut and then a couple of months later he goes to Hajj and no one finds anything about him until two or three months later if this is not red alert I don't know what it is.