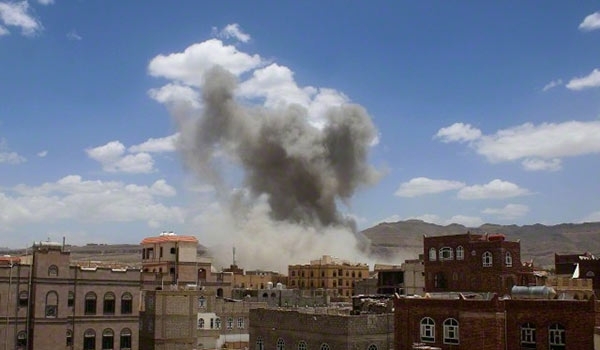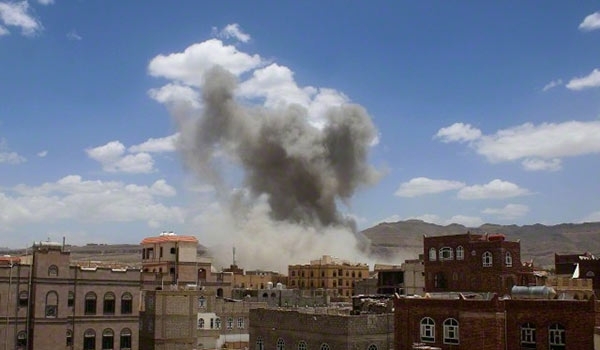 The Saudi-led coalition warplanes hit various targets in the Yemeni capital of Sana'a and other cities, killing or wounding dozens of people, sources confirmed.
The air raids targeted a military base in al-Nahdain Mountain and the Special Security Forces camp in Sana'a, the sources said.
"About 40 people were killed and more than 100 others injured in a preliminary toll after the airstrikes by Saudi warplanes on al-Nahdain Mountain and the Special Security Forces camp in Sana'a," the sources confirmed.
Meanwhile, the coalition on Wednesday destroyed the maritime facilities in the Red Sea city of al-Hodayda, as well as military camps in the provinces of Taiz, Hajja, Marib and Sa'ada.
"All the naval base's equipment and infrastructures were totally ruined by the Saudi warplanes," officials said on condition of anonymity.
"The port was hit by up to 20 rounds of airstrikes since dawn until midday," sources said.
In Yemen's Central province of Marib, the air strikes hit popular forces' gatherings in Sarwah area and Marthid Mountain, killing at least 13 people.
The sources said the local tribal fighters managed to recapture the Marthid Mountain after the airstrikes.
Residents in the Southern port city of Aden also reported intensified airstrikes against the popular forces, as well as heavy ground battles.
Officials in the Southern province of Taiz said several airstrikes targeted the popular forces.
Saudi Arabia has been bombing Yemen in the last 64 days to bring its ally, fugitive president Mansour Hadi, back to power.
The airstrikes have so far claimed the lives of more than 4,113 civilians, mostly women and children.
According to a recent report by Freedom House Foundation, most of the victims of the deadly Al Saud campaign are civilians, including a large number of women and children.
Thousands of residential buildings have been destroyed, and hundreds of civil and public facilities were reduced to rubble as a result of the bombardments by Saudi warplanes on the Yemeni cities and towns, the group said.