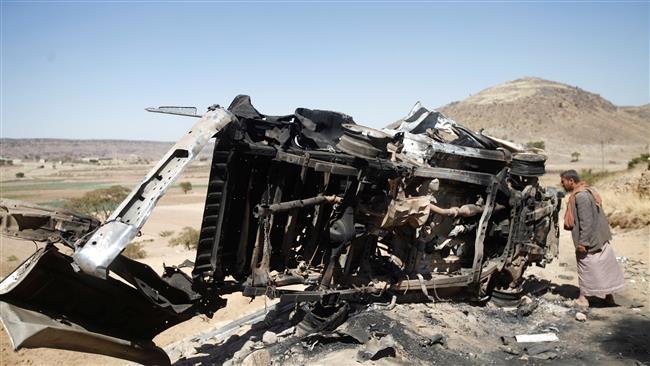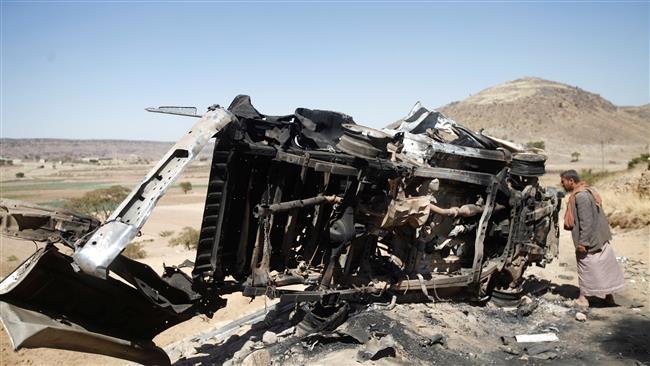 Saudi warplanes have targeted a civilian vehicle carrying 14 passengers in Yemen's southwestern province of Ta'izz, killing all of its occupants.
The charred bodies of the victims were discovered after the Saudi airstrike late on Friday.
Saudi airstrikes against civilian targets and urban infrastructure on Friday overall claimed the lives of 30 people and injured 10 others in Ta'izz, Sana'a, and Mareb provinces.
In response, Yemeni army forces launched missile and mortar attacks against the positions of Saudi mercenaries in the town of Maqbaneh in Ta'izz Province.
On Thursday, Yemeni army forces, backed by Ansarullah fighters, gained control over five military bases run by Saudi mercenaries in the al-Wazi'iyah District of Ta'izz Province and killed several Saudi-backed militants.
The Saudi war on Yemen, which local sources say has killed at least 11,400 people, was launched in an unsuccessful attempt to reinstate a former government allied to Saudi Arabia.
The Saudi war has also taken a heavy toll on the country's facilities and infrastructure, destroying many hospitals, schools and factories.
Stephen O'Brien, the United Nations (UN)'s under-secretary-general for humanitarian affairs, on Thursday warned of the dire humanitarian situation in Yemen in the wake of the nearly two-year-old Saudi war in the impoverished Arab country. He said Yemen could face famine this year.
Saudi jets also bombarded the Salif district in Hudaydah Province, killing three civilians and injuring three others.
Elsewhere, in the northern province of Jawf, several Saudi mercenaries were killed and injured on Saturday in an attempted operation to infiltrate into Maton district.
Meanwhile, the media affiliated to Saudi mercenaries in Yemen have reported that their ground and naval forces have parachuted down to the southwestern port city of Mokha.