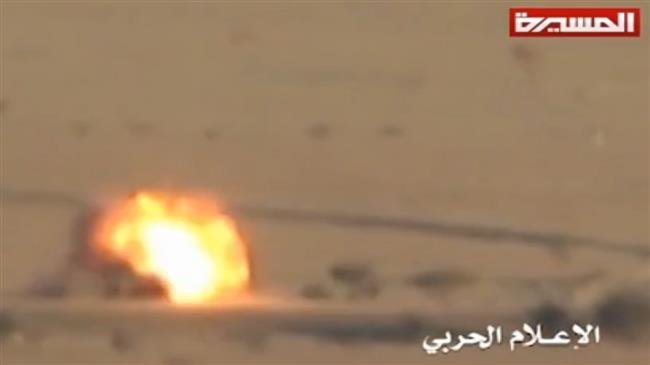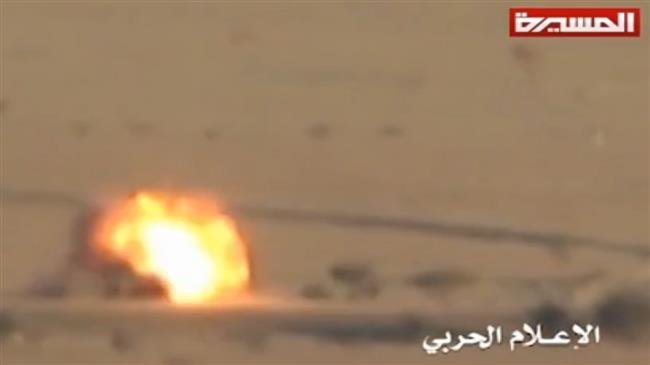 New footage provided by Yemen's War Media outlet shows Yemenis fighting back a Saudi push against the port city of Hudaydah and targeting troops in Saudi Arabia's southwestern Najran region.
The announcer in the footage identifies the opening scene of the clashes as the road near Hudaydah International Airport where speeding armored vehicles are struck with a Zalzal-1-type missile and artillery rounds.
Later, the images show burned-out equipment and the dead bodies all over the battlefield, some of which were cut out by Press TV because of their graphic nature.
According to Yemen's al-Masirah television, a significant cache of weapons was also seized from Saudi-backed militants and mercenaries by Yemen's Houthi fighters and their allies in the army.
In the scenes related to battles in Najran, Saudi Arabia's military vehicles are seen being hit by Yemeni rockets and catching fire.
According to al-Masirah, the Yemeni operation was carried out in a desert near the al-Khazra border crossing, in which a significant portion of Saudi military equipment was destroyed.
Saudi Arabia and the United Arab Emirates deployed about 10,000 new troops to Yemen's west coast this month after their repeated campaigns to seize Hudaydah were thwarted.
The invaders, however, have hit a stiff wall of resistance put up by the city's protectors who have pushed back the militants and mercenaries.
Last week, Saudi Arabia announced a pause in the offensive, which a Houthi spokesman described a bid to buy time and reinforce the military strength for a fresh push.
Yemen's Houthi Ansarullah movement says the halt in Saudi airstrikes against Hudaydah port is aimed at buying time and reinforcing troops.
"In every round of aggression against Yemen, the escalation begins and then dies down, mostly without declaring a truce," Houthi spokesman Mohammed Abdulsalam wrote in a tweet on Thursday night.
"Given the recent developments in the battle on the ground, the aggressive coalition is trying to pretend that it has halted its attacks [on Hudaydah] in response to global pressure or to allow the dispatch of humanitarian aid, but that's a big lie," he said.
The UN has warned that the Hudaydah offensive, which first began earlier this year and was re-launched last month after a pause of several months, could deprive millions already on the verge of starvation of access to food or medicine.
Saudi Arabia and its regional allies launched the devastating campaign against Yemen in March 2015, with the aim of bringing the former government of Abd Rabbuh Mansur Hadi back to power and crushing the Houthis.