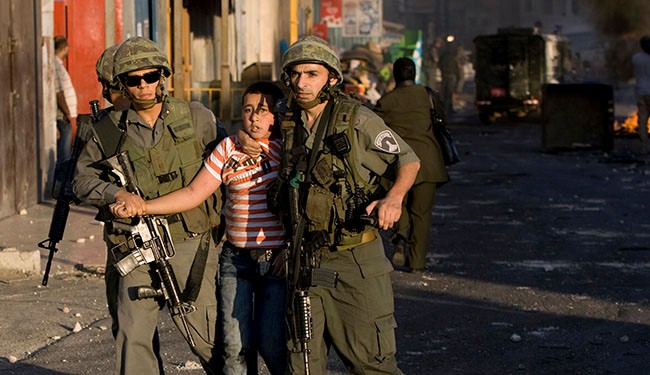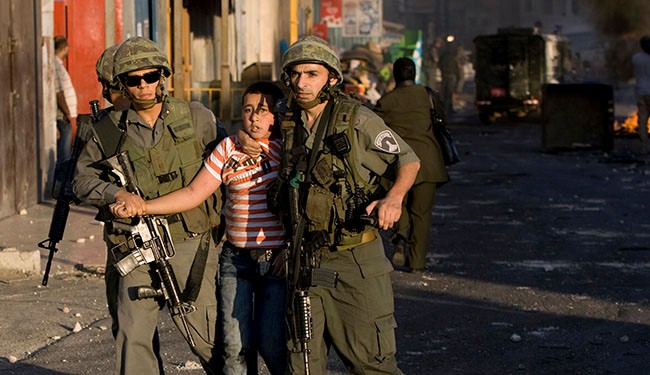 Israeli occupation troops detained four Palestinian children aged five to nine years for more than an hour Friday in the West Bank with their hands cuffed.
Palestinian sources said that clashes with occupation forces erupted in the northern West bank village of Kfar Qaddum during the weekly protest there against Israeli occupation by Palestinians and international activists.IOF arresting Palestinian child (archive)
"Four children who were present in the area had stun grenades thrown at them by Israeli soldiers, which frightened them," said Palestinian activist Murad Ashtiye of the village's Popular Struggle Coordination Committee.
"Then the soldiers arrested them and tied their hands behind their backs using plastic strips," he added, identifying the children as Tariq Hikmet, 9, Hossam Khaldun, 7, six-year old Malak Hikmet and Ahmad Abdessalam, 5.
On the other hand, an Israeli military spokeswoman said that troops rounded up some minors during "rioting" in the village but held them only briefly.
"A group of Palestinian children were detected setting fire to tires," she said. "These riots usually start with burning tires being rolled at security forces."
"Soldiers rounded up the children to prevent mayhem and when a commander arrived shortly afterwards they were released," she said.