Syria
Injured Civilians: Those who Carried Out Terrorist Bombings Tools and Mercenaries Serving Syria's Enemies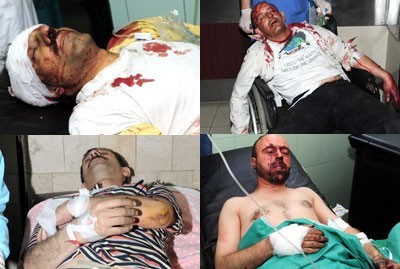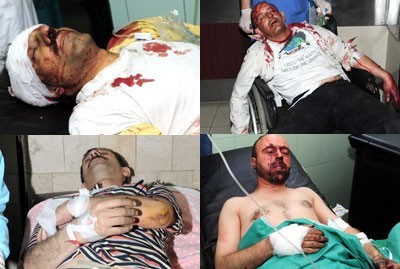 A number of citizens who were injured by the twin terrorist bombings which hit Damascus in the early morning said that those who commit such terrorist acts have no religion and they are not humans, rather they are tools and mercenaries serving Syria's enemies.
An injured civilian who was transported to al-Moujtahed Hospital , Imad Ghazali told SANA reporter that the second blast dislocated his shoulder as he was near the devastated area.
In turn, the 20-year-old young man Mohammad Kheir al-Hassan said that he was on his way to the work when he heard the first blast then he found himself on the ground with a piece of shrapnel in his hand as the second blast occurred.
Um Mohammad who was in a state of shock because of the severe injury of her brother called for holding those who carry out the bombings accountable for their crime.
Abdel Rahman Mohammad, who lives in al-Qazaz area, said "I heard the first explosion so I left home to make sure that my cousins and neighbors are good when the second blast took place and the building was cracked and I was injured."
Ammar Ballol, said that he woke up to the sound of the blast which was very huge, adding that he had shrapnel in his back.
Adnan al-Qabbani also woke up to the sound with an injury in the chest, wondering if this is the freedom they are calling for.
Assistant Minister of Higher Education for Health Affairs, Dr. Nizar al-Daher said that the medical cadres in al-Mowasat hospital were put on alert and received many injured people and martyrs.
In turn, Assistant Director General of al-Mowasat Hospital for Medical Affairs, Dr. Shadia al-Khudari said that the injuries varied between mild bruises, wounds, neurological injuries and cases of nervous breakdown.
She added that the situation of the injured civilians is stable as they are monitored by specialized medical cadres.
Abdel Mon'em Mansour said that when he heard the first blast he run out to look for his three children who were on their way to al-Qazaz school, near the site of the bombing, and when he reached the street, the second blast occurred and he was slightly injured.
The injured people and their families condemned this heinous act, stressing that it will not undermine the Syrians' determination or steadfastness.