Middle East
Syria
Injured Military Personnel Stress Loyalty and Strong Will to Defend Homeland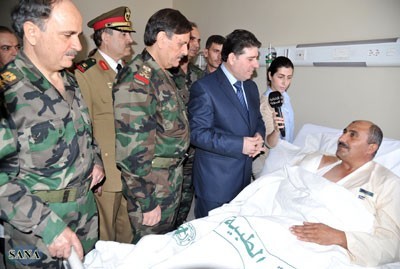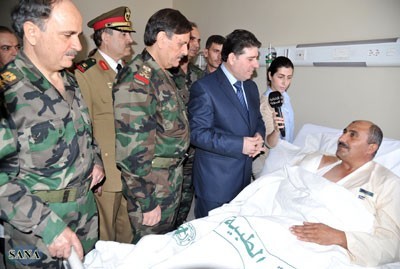 Prime Minister Wael al-Halqi on Sunday highlighted the Syrians' ability to face all the challenges and have the security and calm restored to their homeland thanks to the unity between the army and people and their determination to eliminate the armed terrorist groups.
Al-Halqi was speaking during a tour of Damascus Hospital and Martyr Youssef al-Azmeh Hospital at which he inspected the preparedness and work of these two hospitals and checked on the health condition of the military and civilian injured.
The Minister offered some gifts to the patients and wished them a speedy recovery, stressing that the health sector will continue providing best medical services to the citizens in spite of the economic siege and the targeting of it cadres and institutions by the terrorist groups.
Lt. Gen. Fahd Jassem al-Freij, Deputy Prime Minister and Minister of Defense accompanied Premier al-Halqi in his visit to Martyr Youssef al-Azmeh Hospital.
Al-Halqi also toured the General Establishment for Electricity Generation and Transmission and inspected the control center of the main power system and the work and maintenance workshops at a transmission station.
He said the electricity sector has been among the most sectors targeted by the terrorist groups, stressing however the sector's ability to provide power thanks to the workers' keenness on continuing their work with perseverance.
Minister of Defense Visits Military Hospitals, Inspects Services
Gen. Fahd Jassem al-Freij, Deputy Commander-in-Chief of the Army and the Armed Forces and Minister of Defense, visited several military hospitals on the occasion of Eid al-Fitr.
General al-Freij was briefed by the wounded military personnel on their situation, expressing appreciation for their encourage in confronting the armed terrorist groups and wishing them fast recovery.
General al-Freij was also briefed by the medical staff on the injuries and services and thanked them for their exerted efforts.
Military Senior Officers also visited the Martyrs Cemetery and laid flower wreath on the monument, on behalf of President Bashar al-Assad, Commander-in-Chief of the Syrian Army.
Secretary of BASP Damascus Branch Visits Injured Military Members at Hospitals
Secretary and members of the Damascus Branch of al-Baath Arab Socialist Party (BASP) on Sunday visited the injured members of the Syrian Arab Army in Martyr Yousef al-Azmeh Hospital on the occasion of Eid al-Fitr, a holiday marking fast-breaking at the end of the month of Ramadan.
The injured personnel affirmed their strong will and determination to follow the path of martyrdom for the sake of defending their homeland, stressing that "there is no fear for Syria because the heroes of the Syrian Army are fully ready to offer every precious thing in the defense of this great homeland."
"We will remain loyal to our generous homeland and will never be defeated by the would-led conspiracy hatched against Syria," the injured military members added.
Mwaffaq Basha, Secretary of Damascus Branch of the BASP said this visit is "a simple expression of gratitude to our brave soldiers," stressing that the organized terrorism led by the US "will not frighten us. Rather it will make us stronger to face their dirty war in defense of our homeland."