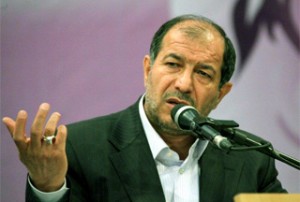 Iran's interior minister has responded to US President Barack Obama's threatening comments about a nuclear attack on Iran, calling them 'worthless, childish' remarks.
"Obama took a childish stance. The Americans themselves realized just how tactless it was, but they can not undo the comments that Obama has made," Mostafa Mohammad-Najjar said in the western Iranian Province of Chahar-Mahal and Bakhtiari on Monday afternoon.
Earlier this month, the US president released a new US Nuclear Posture Review (NPR) that, among other things, restricted the use of nuclear arms against most non-atomic states.
The restriction, however, will not apply to countries that are, from the US perspective, not in compliance with non-proliferation treaties.
Just before the NPR was issued, Obama told The New York Times that the loophole would apply to what he called "outliers like Iran and North Korea."
Mohammad-Najjar, however, said that Iran's recent progress had angered the United States.
"The enemy can not stand to see all these achievements. Iran has turned into a model for independence and progress in the region," the Iranian interior minister went on to say.
"While Iraq and Afghanistan are burning in the flames of war and occupation, Iran is standing firm against all enemy plots like a steadfast and proud nation," he concluded.