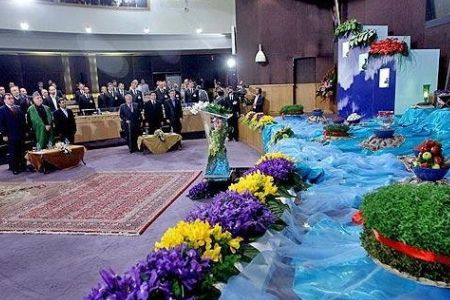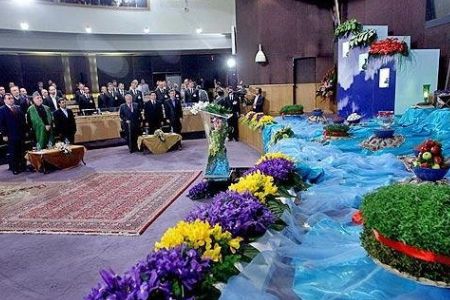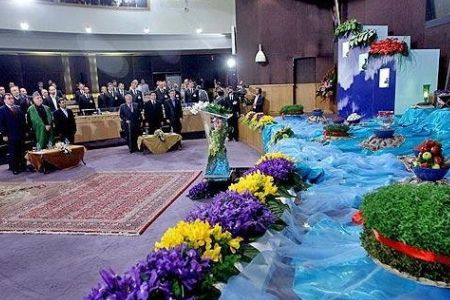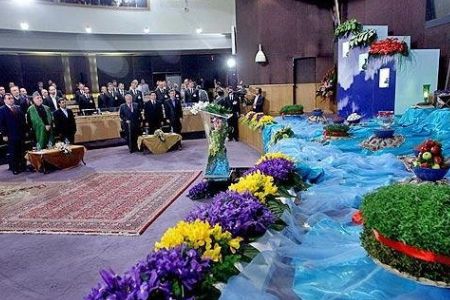 The second International Nowruz Celebrations have officially kicked off in the Iranian capital, Tehran, in the presence of President Mahmoud Ahmadinejad.
Hamid Karzai, Jalal Talabani, Gurbanguly Berdimuhammadov, Emomali Rahmon and Serzh Sargsyan — presidents of Afghanistan, Iraq, Turkmenistan, Tajikistan and Armenia respectively — took part in the inaugural ceremony of the event at Tehran's Sa'adabad Palace on Sunday.
Meanwhile, Indian health minister, Omani Foreign Minister Youssef bin Alawi bin Abdullah, Pakistani Speaker of the National Assembly Fahmida Mirza, the Kyrgyz minister of culture, the vice president of Zanzibar, the Kuwaiti special envoy and Secretary General of Economic Cooperation Organization (ECO) Mohammad Yahya Maroofi are also participating in the event.
Nowruz, which coincides with the first day of spring on the solar calendar, is mostly celebrated in Iran, Afghanistan, Azerbaijan, India, Kyrgyzstan, Tajikistan, Pakistan, Turkey and Uzbekistan.
The International Day of Nowruz was registered on the UNESCO List of the Intangible Cultural Heritage of Humanity on February 23, 2010.
The day-long event aims to commemorate Nowruz as a cultural and spiritual heritage of Iran and other neighboring countries which celebrate the Persian New Year.
During Nowruz, Iranians set the Haft Seen as an expression of their traditional, spiritual, and social values.
Haft Seen is a table containing seven items starting with the phonemic Farsi equivalent of the English letter 'S' or 'Seen.' Sabzeh (freshly grown greens), Samanu (sweet wheat paste), Senjed (jujube), Seeb (apple), Seer (garlic), Somagh (sumac), and Sekeh (coin), are among items that begin with the Farsi letter Seen.
The items are believed to bring health, love, beauty and fertility in the coming year.