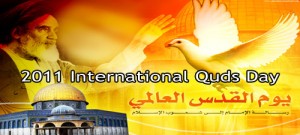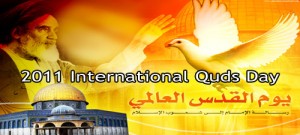 Demonstrations in support of the Palestinian people will be held in 70 countries across the world on the International Quds Day, which falls on August 17, says the director of the Quds and Intifada Center of the Coordination Council for the Dissemination of Islamic Ideology.
Ramezan Sharif made the remarks during a meeting with Grand Ayatollah Nasser Makarem Shirazi in Qom on Tuesday, in which he briefed the ayatollah on the plans and programs organized for the day by the Quds and Intifada center.
The International Quds Day is a day of solidarity with Palestine observed on the last Friday of the holy month of Ramadan. Anti-Zionist demonstrations are held to commemorate the day all over the world, including in Iran, where the event was devised after the 1979 Islamic Revolution. The late Imam Khomeini, the Founder of the Islamic Republic, made the proposal to establish an international day of solidarity with Palestinians in August of that year.
Sharif said that over the past 33 years, many effective measures have been taken in line with efforts to hold massive demonstrations on the Quds Day, and the efforts by the Western media outlets to cause the day to fade into oblivion have been futile.
In a statement issued on Tuesday, Assembly of Experts Chairman Ayatollah Mohammad Reza Mahdavi Kani commented on the Quds Day and said that what happened in the region, which was described as the Islamic Awakening, had its roots in the logic of Imam Khomeini's anti-cruelty message on the Quds Day.