Palestine
Middle East
World News
International shaming of 'israel' continues over bloodshed in Gaza
Palestinians have taken to the streets of the West Bank city of Ramallah to express their support for armed resistance against Israel as the occupying regime continues its deadly bombardments of civilian targets in the Gaza Strip in defiance of international condemnations.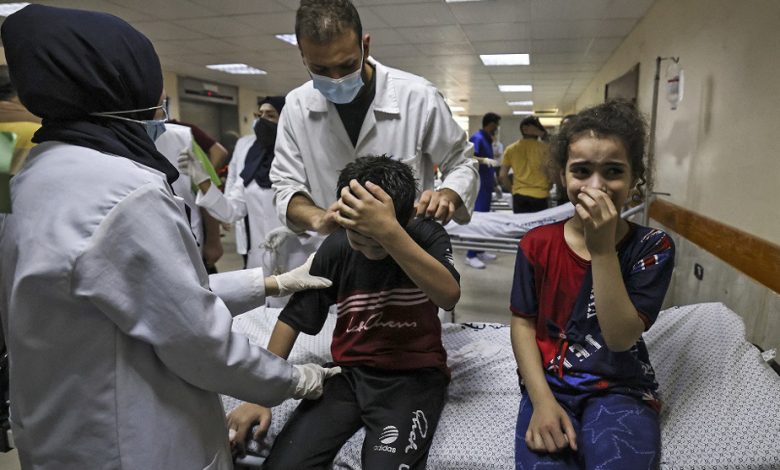 The rally took place on Monday, with the participants announcing that the Al-Aqsa Martyrs' Brigades, a coalition of Palestinian armed resistance groups in the West Bank, would resume its activities.
In the city of Nablus, Palestinians held a protest against the Israeli airstrikes on Gaza, but the regime's forces fired tear gas to disperse the crowd.
According to medical sources, 212 Palestinians, including 61 children and 36 women, have been killed since May 10 in the Israeli onslaught on Gaza, and 1400 others have been wounded.
UN: 38k Gazans displaced
Stephane Dujarric, the spokesman for UN Secretary General Antonio Guterres, said more than 38,000 Palestinians have sought shelter at dozens of UN schools across the Gaza Strip after being displaced by the Israeli aerial assaults.
The attacks, he added, have left more than 2,500 Palestinians homeless as their houses are destroyed.
UNRWA says needs support
The UNRWA, the UN agency for Palestinian refugees, said it had started to provide some basic needs of the displaced families in Gaza.
"We are in urgent need of support," UNRWA spokesman Adnan Abu Hassan said, referring to the Israeli closure of the border crossing that is used to bring in humanitarian aid.
Amnesty: Israeli shows callous disregard for Palestinians' lives
Meanwhile, Amnesty International said Israeli forces have displayed a shocking disregard for the lives of Palestinian civilians by targeting residential buildings in air raids that may amount to war crimes or crimes against humanity.
It also called on the International Criminal Court (ICC) to urgently investigate the attacks, which had been carried without prior warnings.
"There is a horrific pattern emerging of Israel launching air strikes in Gaza targeting residential buildings and family homes – in some cases entire families were buried beneath the rubble when the buildings they lived in collapsed," said Saleh Higazi, deputy director for the Middle East and North Africa at Amnesty International.
"By carrying out these brazen deadly attacks on family homes without warning Israel has demonstrated a callous disregard for lives of Palestinian civilians who are already suffering the collective punishment of Israel's illegal blockade on Gaza since 2007," Higazi added.
EU: Destruction of Gaza media building extremely worrying
EU spokesperson Peter Stano expressed concerns about the Israeli bombing of Gaza media building.
"The destruction of media offices is extremely worrying and the safety of journalists is essential," he said. "The media have to be able to work in an environment of freedom so that they can report independently on what is happening and this is all the more important in a conflict situation, where objective and unbiased reporting is crucial."
Stano noted that EU foreign ministers will meet Tuesday for a special summit on how best the bloc "can contribute to diffusing the tensions, stop the escalation and stop the ongoing violence."
4th UNSC meeting
Also on Tuesday, the UN Security Council (UNSC) will convene for a fourth time to discuss Israel's aggression on Gaza, Norway's UN mission tweeted.
The meeting comes at the request of Norway, China and Tunisia as "the situation on the ground continues to deteriorate. Innocent civilians continue being killed & injured. We repeat: Stop the fire. End hostilities now," it added.
Previous UNSC sessions failed to issue a statement demanding an immediate ceasefire due to the US unilateralism.
Malaysia says disappointed by UN inaction
At the end of the third UN meeting, Malaysian Foreign Minister Hishammuddin Hussein said his country was disappointed by the Security Council's inability to come up with a unified position to halt Israel's violence against the Palestinians.
"In the absence of the Security Council's unified action, Malaysia, in line with our joint call with Brunei Darussalam and Indonesia, urges the General Assembly to convene a special session to immediately end the hostilities," he said in a statement.
"The UN must force Israel to comply with all obligations by international law as well as the UN Charter." the statement added.
France tries to broker truce
On Monday, French President Emmanuel Macron said he would work with his Egyptian counterpart, Abdel Fattah el-Sisi, and Jordan's King Abdullah II on "a concrete proposal" for a ceasefire and dialogue between Israel and the Palestinians.
"For me there needs to be a process for a ceasefire as quickly as possible and construction of a possible path to discussions between the different protagonists," he said during a news conference in Paris.
Macron added that he would bring up Israel's bombing of Gaza media building when he speaks to Israeli Prime Minister Benjamin Netanyahu in the next day or two.
Jordan's king condemns 'provocative' Israeli actions
In a call with Guterres, Jordan's king said the "recurrent provocative Israeli actions against Palestinians have led to the ongoing escalation, pushing the region towards more tension."
King Abdullah II said the "international community must shoulder its responsibility, move actively to stop Israeli violations in Jerusalem, aggression on Gaza," adding that, "he has always warned against altering the historical and legal status quo in Jerusalem (al-Quds)," the royal court reported.
Additionally, Jordanian lawmakers unanimously carried a motion urging the government to expel Israel's ambassador to Amman in protest against the occupying entity's "crimes" against the Palestinian people.
They also demanded the recall of Jordan's ambassador from Tel Aviv.
Parliament Speaker of Parliament Abdul Monem Odat said, "We have sent a memorandum to the government to that effect and it is now with the prime minister."
Prime Minister Bishr Khasawneh, who was present at the parliament, said the Jordanian government will examine all the options "and will rise to the challenge."
Biden gives green light to more Israeli strikes
In a telephone conversation with Netanyahu, US President Joe Biden reiterated "his firm support" for what he called "Israel's right to defend itself against indiscriminate rocket attacks."
Biden also "expressed his support for a ceasefire and discussed US engagement with Egypt and other partners towards that end," the White House said in a statement.
Erdogan: US president has bloody hands for backing Israel
Turkish President Recep Tayyip Erdogan lashed out at Biden for supporting Israel in waging attacks on Gaza.
"You are writing history with your bloody hands," he said in a televised address. "You forced us to say this. Because we cannot stay silent on this anymore."
Referring to US media reports of a new arms shipment to the occupied territories approved by the Biden administration, Erdogan said, "Today we saw Biden's signature on weapons sales to Israel."
"Palestine territories are awash with persecution, suffering and blood, like many other territories that lost the peace with the end of the Ottomans. And you are supporting that," he told Biden.
The Turkish president further blasted Austria for flying "the Israeli terror state's flag."
Pakistan parliament passes resolution in support of Palestine
Pakistan's National Assembly, the lower house of the parliament, unanimously adopted a resolution condemning the Israeli offensive.
Foreign Minister Shah Mehmood Qureshi tabled the resolution, which was supported by opposition leader Shehbaz Sharif.
"This House expresses deep concern over the increasing violence and brutality perpetrated against the Palestinian people by the Israeli apartheid regime," read the resolution.
It also strongly condemned Israel's "systematic and institutionalized" oppression and domination of the Palestinian people and denounced the brutal disenfranchisement and ethnic cleansing of the oppressed nation.
On Monday, protests were held in the Pakistani city of Lahore as well as Jakarta and London, the capitals of Indonesia and Britain, in solidarity with the Palestinians.