Imam Ali Khamenei
Iran
Interview with the Leader of Islamic Ummah and Oppressed People Imam Sayyed Ali Khamenei after Voting in 9th Parliamentary Elections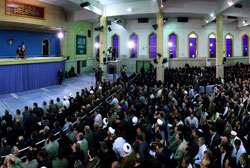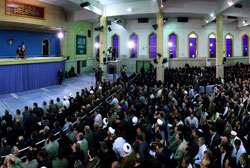 After casting his ballot in the early hours of the 9th parliamentary election, the Leader of Islamic Ummah and Oppressed People Imam Sayyed Ali Khamenei was asked to comment on the election.
"In the Name of Allah, the Beneficent, the Merciful
I would like to express my sincere gratitude to you journalists as well as other people who have made efforts for the elections. You have played a significant role in attracting attention to the significance of elections which are held in the country every year or every other year. May God bestow success on you.
I do not have a new recommendation. I believe this is an obligation and a right for all of us. We should make use of this right and we should fulfill this obligation. I also believe that as is the case with praying, the earlier you vote, the more the spiritual value. I do not want to say that this is based on sharia the way prayers are. From a rational perspective, when a person votes early on Friday, he or she will no longer have it on his or her mind while doing other things, as opposed to leaving everything to the last minute when the polling stations are crowded and there is always the chance and concern that one might not be able to vote. Therefore, the people should come to the polling stations and write the names of thirty people on their ballots. Our dear people should try to fulfill this duty and they will make their intentions pure.
Of course, you know that elections have always been important for our country and the Islamic Republic. This is because elections always play a determining role. They always reveal a certain truth about our country, which carries certain messages for our friends and our enemies in the world. This has always been the case and whenever this characteristic has been strengthened, the importance of elections has been increased. Today is one of those times. Thirty three years has passed since the victory of the Revolution. In the revolutions that have taken place throughout the world, the people grew tired and disappointed over time and their path and goals changed. However, during this time, our people have followed a straight path until today with firm determination. This is a very important event: after the passage of three decades, the people showed that they still enjoy the same characteristics. Moreover, you see and hear that today there is a lot aggression against the Iranian nation. By causing uproar, the arrogant powers that have been defeated and slapped across the face in many cases, want to say that they are not weak and frustrated. What is this uproar about? The issue of Iran is a significant issue, so they create uproar about Iran: the issue of sanctions, the issue of human rights and the other things that they constantly repeat. Because there is a lot of uproar and a lot of verbal threats against the Iranian nation, the Iranian nation is in a more sensitive position and its actions can speak louder than its words. As you know, actions speak louder than words. Our nation can take actions. The larger the voter turnout, the better it is for the future, prestige and security of the country. This is why this parliamentary election is so important. May God bestow success on all of you."