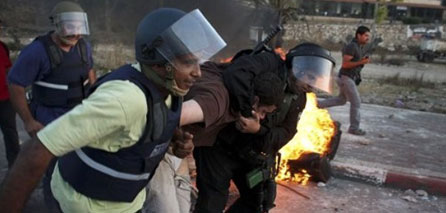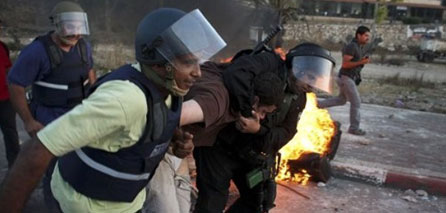 Israeli occupation forces demolished on Monday morning 9/8/2010, two houses in the town of Tubas and detained 12 citizens in different parts of the West Bank.
Ahmed Al-Asad, an official in Tubas, said that a large forces of the occupying army, accompanied by bulldozer moved into the town and began to demolish the two houses without warning.
The houses are owned by Mohammed Ahmed Nawajaa and his son Ahmed, who expressed their grief after the demolition of their home and the expulsion of their families.
The Israeli occupation forces handed out a number of demolition warnings to families in the area of Ein Al-Helwa in the northern Jordan Valley.
Valley residents accuse the occupation authorities to step up procedures to control the region, which represents one third of the West Bank and demanding international intervention to stop the demolitions.
In another context, the Israeli occupation forces launched a campaign of arrests targeted 12 Palestinian citizens in the West Bank.
The Jewish newspaper "Yediot Aharonot," reported that the Israeli occupation forces detained 12 citizens throughout the different areas of the cities, villages and camps in the West Bank, noting that they were taken to detention centers for interrogation.
Palestinian sources said, the occupation army detained a student at the Arab American University Bahaa Hassan Abu Tabeekh (20 years), and the citizen Alaa Mahmoud Ibrahim Saparini (32 years), after storming the Jenin refugee camp with more than 13 military vehicles.