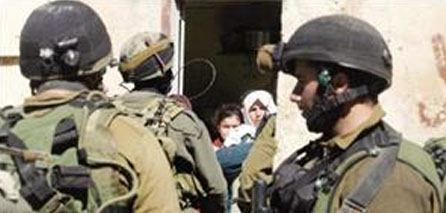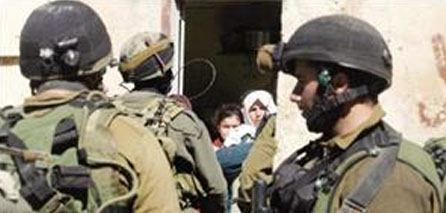 A squad of more than 50 armed Israeli soldiers abused and abducted a 52-year-old Palestinian woman in Al-Khalil Tuesday morning after carrying out a fierce raid on her home.
The victim Shahira Hafidh Burqan suffers from a number of illnesses in her old age and requires urgent medical attention. Four of her sons were previously detained by Israeli authorities and are currently under investigation for allegedly aiding and abetting Nash'at Al-Karmi and Ma'moun An-Natsha, who police shot down a few weeks back while in pursuit of the attackers of a group of illegal Jewish settlers.
Palestinian Prisoners Society director Amjed An-Najjar said: "Occupational authorities have detained many wives of captives in order to pressure them and as a punitive measure in contravention of all international conventions."
In a separate development, Israeli authorities decided to exile eight Palestinians prisoners currently sitting in Israeli jails.
Authorities claim the detainees, whose terms have been extended several times, and who have been sitting in jail for several years, do not have identities. Most of them were granted ID cards to be reunited with their families, but the cards were revoked for allegedly being granted to them by mistake.
The Israeli supreme court has ruled that any person who files for family reunion until the year 2000 cannot be exiled even if the request remained undecided by the courts. But Israel has failed to comply with the ruling.