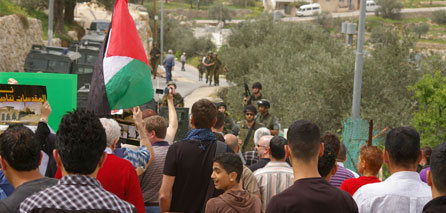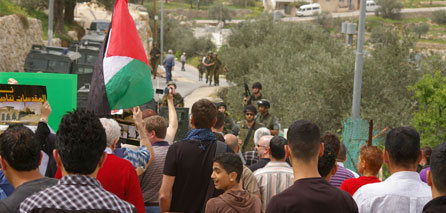 IOF soldiers attacked today Bait Omar demonstration and fired gas and sound bombs which injured two children. Besides they detained an activist and beat a journalist.
The spokesman for the Palestinian solidarity project, Mohammed Ayad Awad, said that Israeli soldiers injured the children Mohamed Abu Maria, 14, in his back and Mohammed Awad, 8, in his head by a sound bomb.
The journalist Naser Shiuokhi was injured and other tens of protestors were suffocated by gas bombs fired by IOF.
Local sources said that Israeli activist, Kobi Snet, was detained too.
Besides, Israeli settlers threw stones at the activists.
Nearly 100 Israeli, Palestinian and foreigner activists participated in the demonstration calling for Lahai decision about the apartheid wall.