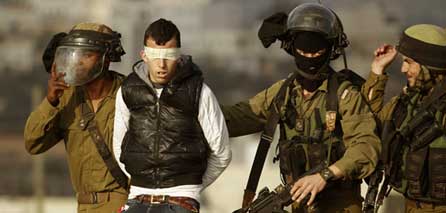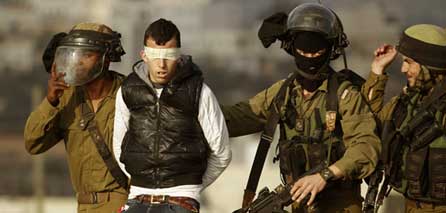 Terrorist Israeli occupation forces kidnapped, at dawn on Tuesday, dozens of Palestinian citizens during a campaign of raids in different cities in the occupied Jerusalem and West Bank.
According to our correspondent, the Israeli occupation focused its raids in the cities of Jerusalem, Ramallah and Al Khalil. The forces kidnapped the leader in Hamas movement Nazih Abu Aoun.
Local sources reported that the occupation kidnapped the leader in Hamas movement Adnan Khader Al Husary from Tulkarm, Jihad Abu Sel from Salfit, and Tamer Al Remawi from Ramallah.
In Al Khalil, the Israeli forces kidnapped six Palestinians, including a son of the Palestinian female prisoner Amira Hamidat.
In the occupied city of Jerusalem, Israeli occupation kidnapped 11 Palestinians. The forces stormed the campus of Al-Quds University in Abu Dis.