Palestine
IOF quells two marches in Beit Ummar and Yatta in al-Khalil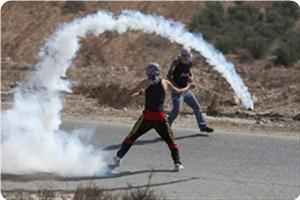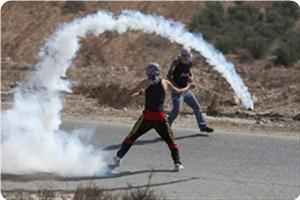 The Israeli occupation forces (IOF) suppressed on Saturday two marches against the segregation wall and settlements in the towns of Beit Ummar and Yatta in al-Khalil south of the occupied West Bank.
The IOF soldiers assaulted participants in the weekly march of Beit Ummar organized on the confiscated lands of the citizens near Karmi Tsur settlement, North of al-Khalil.
Ahmed Abu Hashem, the secretary of the National Committee against the Wall and the Settlements in the town, said in press releases that the Israeli soldiers used tear gas and stun grenades to attack the demonstrators injuring a number of them.
The demonstrators raised slogans in solidarity with the hunger striking prisoners, especially prisoner Hassan al-Safadi, and in rejection of the Jewish settlers continued attacks in different parts of the West Bank.
The Israeli troops also suppressed on Saturday another anti wall and settlements march in the region of Al Hamra in a village eastern Yatta, south of al-Khalil.
Ahmed Rabi, one of the participants in the march, told PIC's reporter that "the residents of the village organized the march in collaboration with community organizations and foreign peace activists".
He said that the residents wanted to protest the settlers' recent attacks in Masafer Yatta after they had uprooted more than 100 olive trees and sprayed toxic substances on the citizens' plantations under the protection of Israeli soldiers.
Ahmed added that the soldiers quelled the march and used force to disperse protestors.