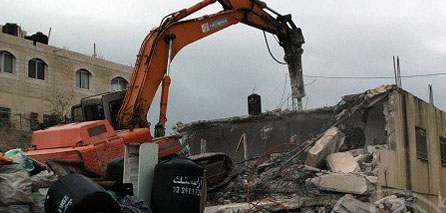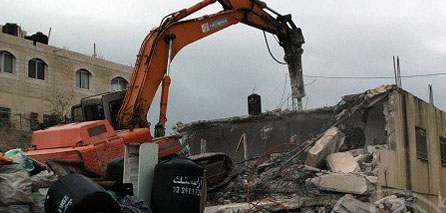 Israeli occupation police on Wednesday razed a Palestinian house in the occupied East Jerusalem, shortly before the owner arrived home with a court order halting the demolition.
Large number of Israeli occupation police and a single bulldozer were involved in the operation, which leveled the small house in the Al-Tur neighbourhood near the Mount of Olives.
House owner Abed Zablah, a father of five, showed Agence France-Presse a letter issued early Wednesday by the Jerusalem District Court ordering a halt to the demolition.
But by the time he got home with the letter, the house was already flattened, he said.
Meanwhile, Israeli occupation troops in the Jordan Valley destroyed two buildings and a tent being used by Palestinians in Massu'a, southwest of Nablus, near the border with Jordan, a military spokesman told AFP.
The buildings, which were being used to house cattle, were demolished because they had been erected illegally on public land, the spokesman said.
Permits for Palestinians to build in East Jerusalem are extremely rare, rights groups say, and Israel occupation authority frequently issues demolition orders despite the sensitive nature of such operations on land the Palestinians want as capital of their future state.
Israeli occupation captured East Jerusalem in the 1967 Six-Day War and later annexed it in a move never recognised by the rest of the world. The state considers the whole of Jerusalem its "eternal and indivisible" capital.
No doupts, Israeli occupation authority is going on its illegal projects aimed at judaizing the occupied city of Jerusalem and its historiclandmarks.