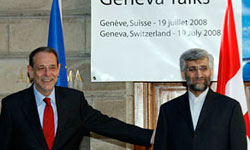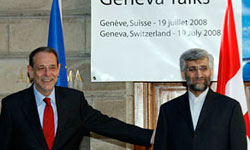 The Islamic Republic of Iran and the Group 5+1 (the five permanent UN Security Council members plus Germany) are slated to attend talks early in October to settle the nuclear standoff between the two sides.
"The Islamic Republic of Iran, with seriousness and double motivation which derives from the unique 85% rate of the participation of the Iranian nation in the recent (presidential) election, is ready to make efforts to boost cooperation and interactions in the October talks," Secretary of Iran's Supreme National Security Council (SNSC) Saeed Jalili said in a telephone call to EU Foreign Policy Chief Javier Solana on Monday.
Reminding new developments in the international arena, Jalili described Tehran's newly presented package of proposals (to the six world powers) as a proper ground for talks over achievement of peace, justice and progress.
Foreign Minister Manouchehr Mottaki presented Iran's updated nuclear package to the ambassadors and representatives of the six major powers on Wednesday.
The package was submitted to the ambassadors of France, Russia, Germany, and China, the British charge d'affaires, and the Swiss ambassador to Tehran, whose country represents US interests in Iran.
Also during the telephone conversation, Solana told Jalili, "A more precise study of the aspects and dimensions of this package requires talks between the two sides".
The European official further reminded regional and international developments, and expressed the hope that the October talks would prove useful.
Solana had also earlier announced that he was seeking a meeting with Iran's chief nuclear negotiator Saeed Jalili "at the earliest possible opportunity".