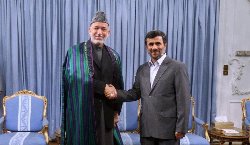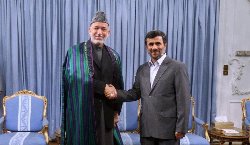 Iranian President Mahmoud Ahmadinejad on Saturday held talks with Afghan leader Hamid Karzai on issues of mutual interests.
Referring to the necessity of paying much attention to human and divine values and traditions, President Ahmadinejad expressed hope that people of the globe behave like the countries which celebrate Nowrouz.
The two presidents also conferred on the regional and international issues, calling for enhanced cooperation.
President Ahmadinejad described the Afghan nation as "talented" and "hard- working", adding that the Afghanistan government has the capacity to establish security and prosperity for its nation without foreign meddling and presence.
Karzai said for his partthat Nowrouz, the spring equinox, is celebrating the feast of connecting the nations and getting closer to each other.
The Afghan President heading a delegation arrived in Tehran on Saturday to take part in Nowrouz festival of the Persian speaking countries.
Upon arrival at Mehrabad International airport, the Afghan president and his entourage were officially welcomed by Iran's Commerce Minister Mehdi Ghazanfari.
President Karzai along with leaders of the Persian language speaking nations mainly from the neighboring states are celebrating Nowrouz as a global event.
During his stay in Tehran, President Karzai was scheduled to confer with top Iranian officials including President Mahmoud Ahmadinejad.
Leaders of the neighboring states who attend the global Nowrouz celebrations are to review ways to promote cultural relations among the Persian-speaking nations.
The first global Nowrouz Festival was held in Iran on March 27, 2010.
Nowrouz tradition was registered at UNESCO in 2010.