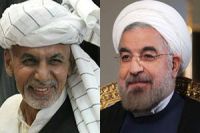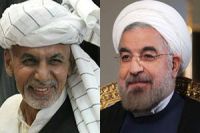 The Islamic Republic of Iran President Hassan Rohani, and his Afghan counterpart, Ashraf Ghani Ahmadzai, have emphasized good neighborly relations and continuation of amicable and cordial ties between the Iranian and Afghan people.
According to IRIB World Service, President Rohani, in a phone call to his Afghan counterpart on Sunday night, emphasized the pleasure of Iranian nation over the establishment of national unity government in Afghanistan, while urging the continued commitment of the two electoral factions on uniformity of Afghanistan and adoption of measures to secure the interests of Afghan people.
President Rohani, throughout this meeting, declared Tehran's opposition to conclusion of Kabul-Washington security pact and noted that all taken measures should prioritize the interests of Afghan nation.
The Iranian chief executive added that regional cooperation is one of the main avenues for countering terrorism and radicalism.
Referring to wide-scale relations of Iranian and Afghan people, President Rohani hoped that interactions with other countries would not harm the two countries' mutual ties.
The Iranian president also hoped for the success, stability, and security of Afghan government and nation.
Meanwhile, the Afghan president, for his part, congratulated the auspicious Eid al-Adha to Iranian government and nation, and reassured that any agreement between Afghanistan and other countries will not be against Iran.
The Afghan president also stipulated that all countries should assist the campaign against radicalism and terrorism.
The Afghan president went on to underline that the national unity government will continue to rule over Afghanistan until restoration of stability in this country.