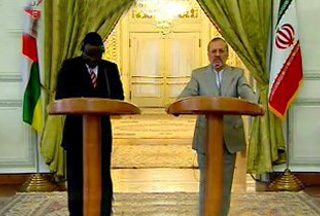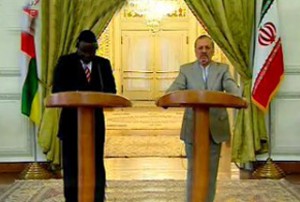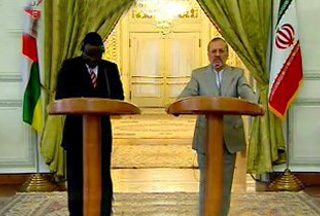 Iranian Foreign Minister Manouchehr Mottaki has stressed that the Islamic Republic's relations with African countries are not in opposition to any other country.
He made the remarks during a Thursday press conference with Central African Republic's Foreign Minister Antoine Gambi in Tehran.
"Our relations with the Central African Republic are not against any third party but at the same time we will not allow anyone to affect or interfere in our good relations with the country," Mottaki said in response to Press TV correspondent's question about US concern over Iran's rising ties with African countries.
The Iranian foreign minister noted that Tehran's relations with other states "are based on mutual respect and interests."
On Israel, the top Iranian diplomat said the regime is the root of most problems in the Middle East as it resorts to military methods against the countries in the region, whenever it feels.
Mottaki, however, pointed out that after its defeat in Lebanon in 2006 and in the Gaza Strip in 2009, Israel is losing now.
On Iran's nuclear issue, he said the country is committed to the nuclear Non-Proliferation Treaty (NPT) and that all nuclear weapons should be scrapped and all countries should be NPT members.
"We essentially believe that all nuclear weapons in the world should be removed; in fact, pulling out the roots of the threat creates security," Mottaki said.
Gambi is in Tehran to take part at the two-day denuclearization conference dubbed "Nuclear energy for
all, Nuclear weapons for none."