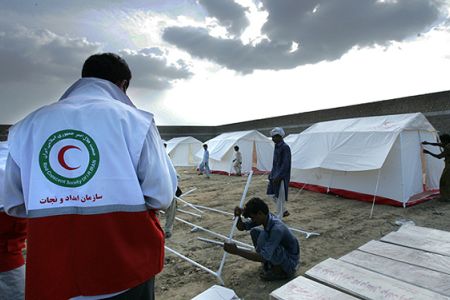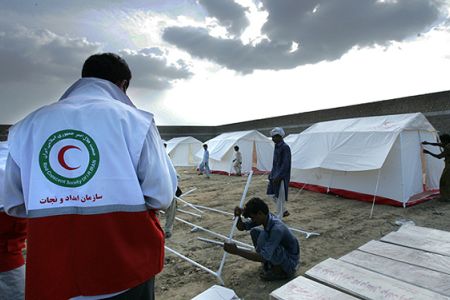 Iranian Interior Minister Mostafa Mohammad Najjar has announced that Iran's largest humanitarian assistance convoy arrived in Pakistan on Saturday.
Najjar said Tehran will continue its humanitarian assistance to the flood-ravaged Pakistanis and will soon send building material to the country.
The Iranian consignment, worth $10 million and weighing 3,000 tons, was transported by 150 trucks and 30 freight cars, the Mehr News Agency quoted the Iranian interior minister as saying.
The aid cargo — containing food, tents, blankets, medicine, home appliances, and water — was sent to Pakistan through the border near the southeastern city of Zahedan, he explained.
"Iranian assistance to Pakistan is… in two phases. The first was for relief and accommodation assistance, and the second will include help for reconstruction of the country, which will begin in the near future. Two other consignments, with a weight of 700 tons and 400 tons, will also be shipped to Pakistan from the ports of Bandar Abbas and Chabahar," he added.
He went on to say that Iran's Red Crescent Society has set up 24 relief camps and seven clinics in Pakistan, adding, "Now 150 Iranian physicians, nurses, and relief workers are providing services to Pakistanis."
In response to Leader of Islamic Ummah and Oppressed People Seyyed Ali Khamenei's call to redouble efforts to reach out to Pakistani flood victims, the government allotted $100 million for the reconstruction of Pakistan, Najjar added.
At least 1,760 people died and 17 million were affected by the recent flooding, which submerged nearly one fifth of Pakistan.
Sindh is the worst-affected province. Nineteen of its 23 districts were ravaged when floodwaters poured out of the Indus River.
According to the UN Office for the Coordination of Humanitarian Affairs, more than 650,000 families whose homes were wiped out by the floods still have no basic shelter.
The World Health Organization (WHO) has warned of the threat of epidemic diseases in flood-stricken areas.
Relief agencies warn that aid is too slow to arrive for millions without clean water, food, and homes in the flood-hit regions.