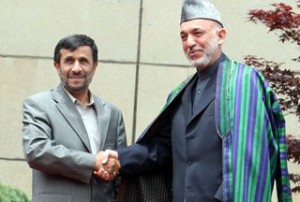 Iran has spent more than $280 million in the reconstruction projects of Afghanistan so far, says Iran's envoy to its eastern neighbor.
"A total of $220 million has been spent in the road construction projects while more than $60 million was provided in education, telecommunications, electricity, borders security, health sector, higher education and sports," Iran's Ambassador in Kabul, Fada Hussein Maleki, told Press TV in an exclusive interview.
Maleki pointed out that Iran had pioneered in helping the Afghan people and offered its full support for the reconstruction of Afghanistan in international conferences such as those in Tokyo and London.
"The reconstruction of Afghanistan after several lengthy wars was an important issue and all countries had to contribute to it," he said.
"Iranian and Afghan delegations will be exchanging visits to each other's countries in the near future."
Iran and Afghanistan have about 1,000 kilometers in common border. The two countries have a trade volume of more than $1.3 billion.