Iran
Iran Air Force drills head into main phase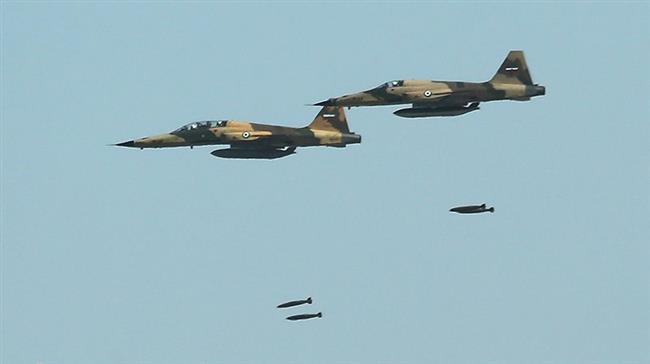 The Islamic Republic of Iran Air Force (IRIAF) takes its underway large-scale maneuvers into their main phase by using indigenous and indigenously-overhauled fighter planes to successfully destroy mock hostile targets.
Codenamed Fada'eeyan-e Harim-e Velayat (Devotees of the Velayat Sanctuary)-9, the drills began on Saturday, enlisting as many as seven airbases and dozens of manned and unmanned aircraft. The air force spent the first day rushing the aircraft to the central Iranian province of Isfahan's Shahid Babayi Airbase, around which the maneuvers center.
The event's spokesman Second Brigadier General Farhad Goudarzi said the first part of the main phase of the drills started on Monday, with indigenous Saeqeh (Lightning) fighter planes and F-5s destroying the mock targets' "vital" spots with domestically-manufactured rockets.
F-7s also laid into sensitively designated targets, using domestically-produced rockets as well as smart, precision, and stand-off weapons, he said. The aircraft carried out the mission beyond the areas assigned for air defense operations and using innovative tactics, the official noted.
According to the spokesman, F-14 fighters were also aerially refueled by Boeing-707 tanker planes in order to prepare for low-altitude top cover operations.
The IRIAF, meanwhile, engaged in electronic warfare, testing advanced communication systems within safe wire-connected and wireless platforms.
Before the main phase was supposed to go underway, reconnaissance drones, including the indigenous Kaman (Bow)-14s, monitored the assault course with domestically manufactured cameras, gleaning data and conducting electronic wiretapping.
The drills, the official noted, carry a message of "stability, amity, and sustainable peace" for the regional countries, while also serving to assure the Iranian nation about the country's overall security. For enemies, however, the maneuvers carry a message of "readiness for defense and crushing response in the event of their mistake or miscalculation," Goudarzi concluded.