Iran
Iran Army to Hold Joint Massive Wargames in Western Iran on Oct 19-20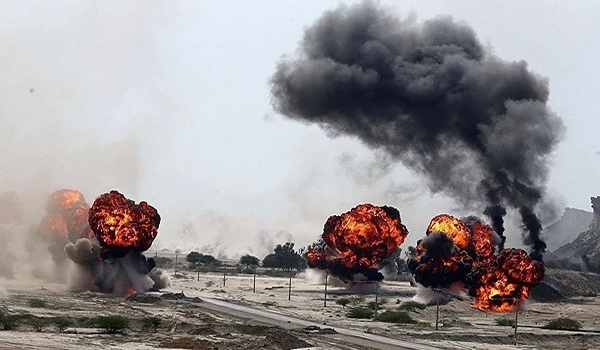 The Iranian Army Ground, Air and Air Defense Forces plan to start massive military exercises on Monday.
The two-day wargames codenamed Muharram will be held in the Western parts of the country on October 19-20.
Different units of the Ground Force, Air Force and Air Defense units will participate in the massive maneuvers.
Iran's Army and IRGC hold regular wargames to practice combat tactics and also test new home-made military tools, equipment and weapons in action.
The Iranian Armed Forces have recently test-fired different types of newly-developed missiles and torpedoes and tested a large number of home-made weapons, tools and equipment, including submarines, military ships, artillery, choppers, aircrafts, UAVs and air defense and electronic systems, during massive military drills.
Defense analysts and military observers say that Iran's wargames and its advancements in weapons production have proved as a deterrent factor
Yet, Iranian officials and commanders have repeatedly underlined that all military exercises and trainings of the Iranian Armed Forces are merely meant to serve deterrent purposes.
Earlier this month, the Iranian Air Force conducted exercises codenamed "Fadaeeyan-e Harim-e Velayat-5′ in the province of Isfahan in Central Iran.
A variety of Air Force fighter jets, fighter bombers, transport planes, reconnaissance aircraft and refueling planes took part in the military maneuvers on October 5.
Reconnaissance drones also took part in identifying the region and enemy targets, and military commanders prepared their plans for the drills on the basis of the data gathered by the reconnaissance drones.
Brigadier General Massoud Rouzkhosh, spokesman of the Fadaeeyan-e Harim-e Velayat-5, said that Sokhoi 24 with long-range operations capabilities, F4, F5, F7, Mig 29 and F14 aircraft as well as Boeings 707 and 747 and different types of drones and C130 transport planes took part in the exercises.
On September 22, the Iranian Armed Forces displayed the country's latest home-made long-range and ballistic missiles during the annual military parades in Tehran and across the country on Tuesday.
The Iranian forces displayed various types of home-made ballistic and long-range missiles, including Sejjil and Qadr missiles.