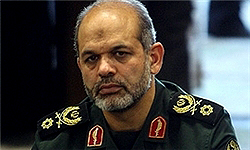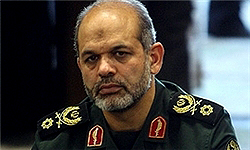 Iranian Defense Minister Brigadier General Ahmad Vahidi called for strategic defense agreements among Islamic states to defend the Palestinian people and the holy Quds.
"If Islamic countries shape a strong and strategic defense unity for defending the causes of Palestine, the Zionist regime will have no option but to accept the will and demands of the Palestinian nation," Vahidi said, addressing a meeting of Defense Diplomacy Committee here in Tehran on Tuesday.
He said unity in the Islamic world and solidarity among Muslims are the most important factors in confronting the devilish plots hatched by the Quds occupying regime.
The Iranian minister further stressed that the international Quds day is a demonstration of Muslim unity, determination and will to the world.
Millions of people are expected to take part in the International Quds Day (Friday, August 17) rallies in solidarity with the oppressed Palestinian people and all oppressed nations around the world.
International Quds Day is an annual event opposing Israel's occupation of Beitul-Muqaddas. Anti-Zionist rallies and demonstrations are held on the last Friday of Ramadan in Muslim and Arab countries around the world, specially in Iran.