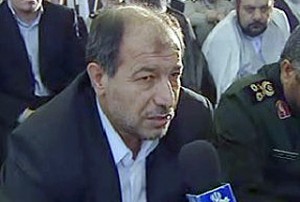 After Jundallah group takes responsibility for the deadly attack in southeast Iran, Interior Minister calls on Islamabad to hand over the terrorists to Tehran for trial.
"Pakistan's negligence to submitting terrorists to Iran cannot be justified by any means. The Pakistani officials should be accountable to the terrorists attack in Sarbaz town," Mostafa Mohammad-Najjar said in a telephone conversation with his Pakistani counterpart Rehman Malik.
"Iran looks for a practical measure by the Pakistani government," he added as he voiced strong protest of the Iranian government and nation to Pakistani authorities.
At least 42 people, including ranking commanders of the Islamic Revolution Guards Corps (IRGC) were killed by an explosion during a unity conference between Sunni and Shia tribal leaders in the borderline city of Pishin in Sistan-Baluchistan on Sunday.
The Pakistan-based terrorist group Jundallah, a closely affiliated with the notorious al-Qaeda organization, accepted responsibility for the deadly attack.
Malik expressed Pakistan's "extreme grief" over the terrorist attack in Iran and assured his Iranian counterpart of complete cooperation for every possible help.
Pakistan will keep up the war against terrorism as it is a victim of terrorism and engaged in fight with extremists groups, he added.
The Pakistan-based Jundallah, led by Abdolmalik Rigi, has staged a torrent of bombings and terrorist attacks in Iran.
In a recent interview with Press TV, Rigi's brother, Abdulhamid, confirmed that the Jundallah leader had established links with the US agents.
His brother said that in just one of his meetings with the US operatives, Rigi had received $100,000 to fuel sectarianism in Iran.