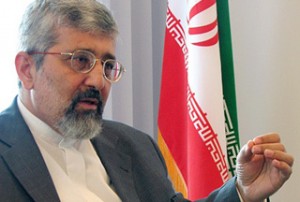 Iran on Monday informed the International Atomic Energy Agency (IAEA) in an official letter that from Tuesday, it will begin enriching higher-grade nuclear fuel.
"Today we handed over the letter," Iran's envoy to the IAEA, Ali Asghar Soltanieh, told Press TV.
He said Iran has asked the UN nuclear agency to dispatch its inspectors to the country to oversee the process of the 20 percent enrichment work.
Iran says as a signatory to the Nuclear Non-Proliferation Treaty (NPT), it is entitled to enrich uranium for civilian purposes.
On Sunday, President Mahmoud Ahmadinejad ordered the country's nuclear organization to take measures to produce the fuel for the Tehran reactor domestically. He, however, stressed that a nuclear swap deal with the West is still possible.
Soltanieh said Iran will use its nuclear stockpile to enrich uranium to up to 20 percent to supply the Tehran research reactor which produces medical isotopes.
The fuel will be produced at the Natanz enrichment plant.