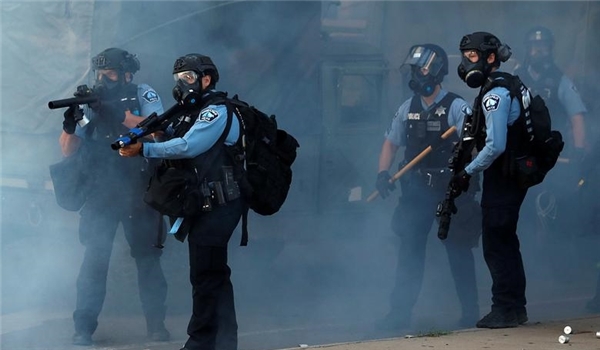 "Failed to keep its promise of stopping wasting money on foreign adventurism and embattled in a Covid-19 crisis of its own making, US regime now employs army, vicious dogs and ominous weapons to intimidate protesters," the Iranian foreign ministry wrote on its official twitter page.
It underlined the need for the US to "listen to its people and change its bankrupt policies".
On a fifth night of unrest in Minneapolis, protesters met a more aggressive response.
Protesters who took to the streets in Minneapolis for the fifth straight night on Saturday met a more determined response from police officers and National Guard troops, as demonstrations escalated in dozens of cities across the country — an outpouring of national anger sparked by the death of a black man in police custody.
Soon after an 8 p.m. curfew took effect, the police in Minneapolis began arresting protesters and firing tear gas and other projectiles toward crowds, and the National Guard used a helicopter to dump water on a burning car.
Police cars were set aflame, freeways were blocked, windows were shattered and authorities deployed tear gas and even rubber bullets. Multiple governors activated the National Guard and curfews were enacted in several major cities, including Atlanta, Chicago, Louisville, Denver, Miami and Milwaukee.