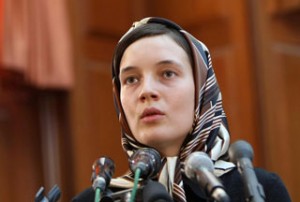 Iran says Clotilde Reiss, a French lecturer arrested in July on charges of taking part in a Western plot against the Islamic Republic in the course of the country's post-vote unrest, has been released.
Iran's judiciary said Sunday that Clotilde Reiss was freed and was on her way back home.
Her lawyer, Mohammad Ali Mahdavi Sabet, said the French academic would receive her passport on Sunday and leave the country afterwards.
Meanwhile the French president's office confirmed the report, announcing that "The President of the Republic will receive her and her family at the Elysee Palace as soon as she arrives in Paris," at around 1:00 pm (1100 GMT).
The 24-year-old Reiss was arrested at Tehran's Imam Khomeini airport last year.
She was accused of espionage during the riots after the 2009 Iranian presidential elections.
On July 8, she appeared in a court hearing admitting that she had reported to the French Embassy and about 50 friends and members of her family about Iran's nuclear program, as well as the country's post-election developments, the official Islamic Republic News Agency reported.
Reiss has been staying at the French Embassy in Tehran since being released on bail in August.