Iran
Middle East
Iran ballistic missile technology changed balance of power: IRGC
The chief commander of Iran's elite Islamic Revolution Guards Corps (IRGC) says the country managed to change the balance of power in its favor by harnessing the technology required for manufacturing ballistic missiles.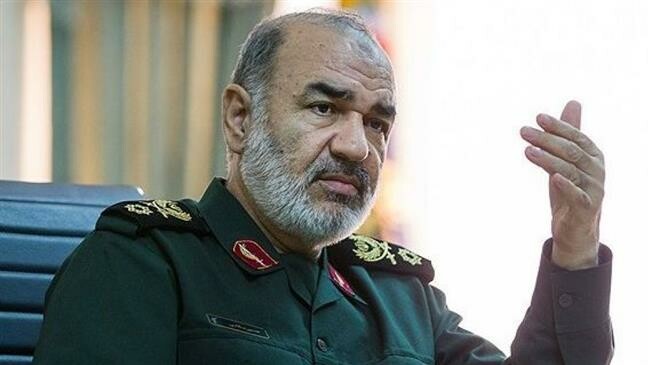 Major General Hossein Salami, who was delivering an address at the Amirkabir University of Technology in Tehran on Tuesday, said the Islamic Republic acquired the knowhow 12 years ago while trying to prepare its defenses against the United States' aircraft carriers.
"This had to be done using ballistic missiles since cruise missiles were vulnerable due to their speed and their trajectory being close to the ground," Salami said. "Ballistic missiles, however, hit their target at a speed, which is several times the speed of sound, and are difficult to be targeted with anti-missile missiles."
The US has ratcheted up pressure on Iran since last year after withdrawing from a 2015 nuclear deal with the Islamic Republic and other countries.
Since then, the administration of US President Donald Trump is trying to reduce Iran's oil exports to "zero," and has sent an aircraft carrier strike group, a bomber taskforce, an amphibious assault ship, a guided-missile destroyer and some 1,500 additional forces to the region.
Iranian officials have dismissed such moves as psychological warfare, saying the country has its own ways of confronting the American animosity.
Tehran has also warned Washington against escalating the tensions, and noted that the region cannot withstand another conflict.
On Monday, though, acting US Defense Secretary Patrick Shanahan said Washington had approved deployment of still some 1,000 more forces to the Middle East for, what he called, "defensive purposes."
US sending 1,000 more troops to MideastThe United States has approved deployment of some 1,000 more soldiers to the Middle East amid escalating tensions with Iran.
Nevertheless, the IRGC chief commander said, "The pressure, which you are witnessing [being exerted] is the maximum, which the enemy can apply."
"They have weakened," he said, adding, "Our enemy is being struck hollow [from within] and America's era is ending."