Syria
Iran Blasts Lack of Support for Annan's Mission in Syria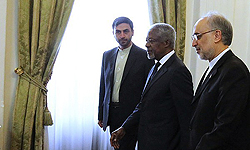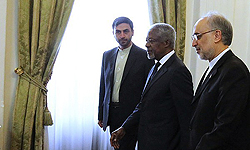 Iran on Friday blamed opponents of the peace plan offered by the UN-Arab League Special Envoy on Syria for the failure of Kofi Annan's mission, and urged international efforts to help Damascus restore peace and tranquility in the country.
Annan announced that he will leave his post on August 31, and stressed that disunity in the international community has hampered his ability to carry out his mission in Syria.
"I did not receive all the support that the cause deserved," Annan said at a press conference in Geneva on Thursday.
Speaking to the Islamic republic news agency on Friday, Iranian Foreign Ministry Spokesman Ramin Mehman-Parast said that the resignation of Annan makes the responsibilities of independent regional states to prevent clashes in Syria much heavier.
It seems that Annan's efforts to prevent arm shipment to Syria and cease terrorist operations did not satisfy the perpetrators, he said.
They did not help Annan implement his six-point peace plan, Mehman-Parast noted, adding that whenever the plan was about to succeed, terrorist operations inside the Syrian territory were increased.
The move indicates that these countries did their best to bring Anna's plan to failure, he reiterated.
Mehman-Parast further called on all countries interested in establishment of stability and security in the sensitive Mideast region to make joint efforts to restore peace and tranquility to Syria and pave the way for peaceful talks between the government and opposition groups.
Annan brokered a six-point peace plan earlier this year, but it has struggled to gain traction on the ground.
Annan's plan called for the realization of a ceasefire between the government and the opposition and also urged that humanitarian groups be allowed to have access to the population, detainees be released, and a political dialogue be started.
Terrorists and rebels widely supported by the US, Saudi Arabia, Qatar and Turkey have disregarded the cease-fire that stood on top of Annan's plan and was to begin in April.