Iran
Iran Boasts $7 Billion Saving in Oil Industry Equipment after Sanctions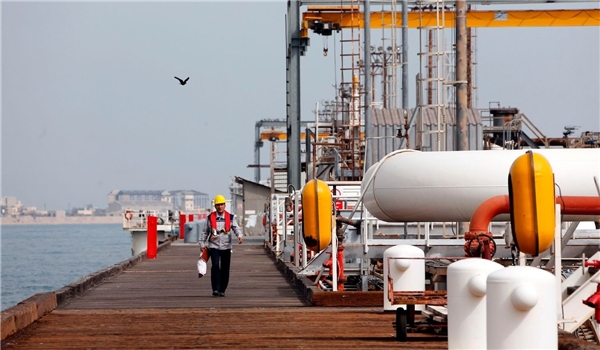 Iran has managed to indigenize production of a vast portion of oil and gas industry equipment which has led to saving more than $7 billion in the past 5 years when sanctions had made it difficult for the country to import needed machinery for its energy sector, Khatam-al Anbiya Construction Headquarters said.
Head of the Khatam-al Anbiya Construction Headquarters Saeed Mohammad announced on Saturday that the HQ has managed to save the country more than $7 billion by localizing the equipment in some industries including oil and gas within five years.
Speaking on the occasion of organizing Iranian Technical and Engineering Capabilities' Exhibition, Mohammad said, "Despite sanctions imposed against the country, competent domestic companies managed to cut dependency on foreign companies particularly in oil and gas industries."
Turning to the activity of Khatam-al Anbiya Construction Headquarters in the oil and gas sector, he stated, "The HQ, in cooperation with the private sector, succeeded in indigenizing more than 70 percent of large industries including steel and copper in sanctions period."
In this exhibition, a contract was inked between Khatam-al Anbiya Construction Headquarters and Esfahan Steel Company (ESC) in the field of manufacturing national rail, he highlighted.
He pointed to the key role of the private sector and added, "Khatam-al Anbiya Construction Headquarters has stood by the private sector for the economic prosperity of the country."
In mid-December, Gachsaran Oil and Gas Production Company (GOGPC) of Iran announced that it has manufactured or repaired 1676 items in the oil industry either by its own or by local companies in the 6 months between March 21, and September 22, 2019.
According to the company's CEO Houshang Seidali, the GOGPC has signed 54 deals with local manufacturers for production of oil industry items and parts over the first half of the current calendar year, which began on March 21.
He said during the period, 767 items were manufactured or repaired by the company domestically and over 1,900 items were purchased from local manufacturers in a bid to support local companies.
On September 22, Iranian Oil Minister Bijan Namdar Zanganeh said that Iran was unable to import machines and equipment needed to contain flare, the gas burnt or vented at oil and gas production facilities which is highly detrimental to the environment.
"The sanctions are anti-human and anti-environment," he said, adding, "They don't let us import equipment we need to prevent sulfur burning or equipment through which we refine non-standard gases."
The minister said sanctions were hampering shipment of machines ordered and paid by Iran, some of them totally ready for transportation into oil processing facilities south of the country.
"That is why we say the sanctions have targeted the entire Iranian nation," said Zanganeh, adding, "They are both anti-human and a crime against humanity."