Iran
Iran Building New Warship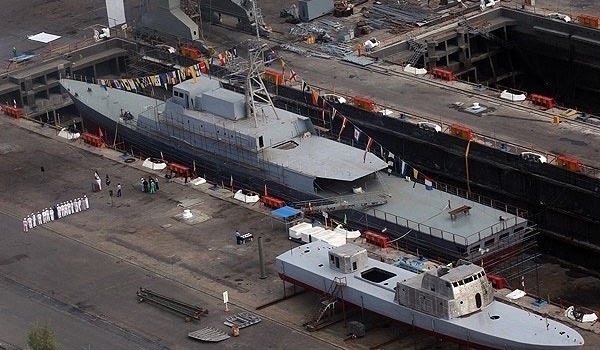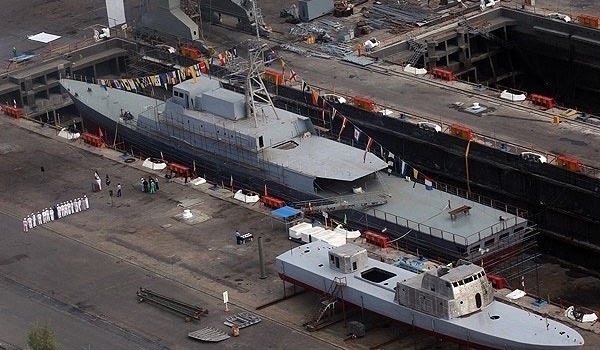 Iranian Defense Minister Brigadier General Hossein Dehqan visited the latest home-made equipment of Iran's new under-construction warship, 'Shiraz'.
During his visit to Iran's first marine zone in the Southern port city of Bandar Abbas on Wednesday, General Dehqan was briefed about the construction of Shiraz warship which is a research vessel and a little smaller than Iran's first home-made destroyer, Jamaran, in size.
No detailed information has yet been released by the Iranian defense ministry about the new warship.
Jamaran was launched in late February 2010. The Mowj-Class vessel has a displacement of around 14,000 tons and is equipped with modern radars and electronic warfare capabilities and is armed with a variety of anti-ship, surface-to-surface and surface-to-air missiles.
Also, Damavand, the second-generation and highly-equipped Iranian destroyer, joined the country's Northern fleet in March in a ceremony participated by General Dehqan, Secretary of Iran's National Security Council (SNSC) Ali Shamkhani, Iranian Navy Commander Rear Admiral Habibollah Sayyari and Head of the Self-Sufficiency Jihad Department of the Iranian Navy Rear Admiral Ali Qolamzadeh.
In an interview with FNA at the time, Qolamzadeh elaborated on the features and specifications of Damavand, and said, "The 7-story destroyer is 90 meters in length and armed with advanced anti-surface and anti-subsurface weapons and air defense systems to defend itself."
Noting that the home-made 'Asr' phased array radar system, capable of detecting and identifying targets with a radar cross section of 4 meters in a 200km distance, had been mounted on the destroyer, he said, "Base-controlled radars, a highly advanced propulsion and command-and-control systems which enjoy high power and capability are only a few of the systems mounted on Damavand destroyer."
Qolamzadeh said in addition to combat operations, Damavand could also be used for training and naval missions, adding that it had been equipped with systems to be used for electronic warfare.
"The operational radius of Damavand is so vast that it can sufficiently be used for all naval missions in the Caspian Sea," he underlined.
In recent years, Iran has made great achievements in its defense sector and attained self-sufficiency in producing essential military equipment and systems.
Iranian officials have always stressed that the country's military and arms programs serve defensive purposes and should not be perceived as a threat to any other country.