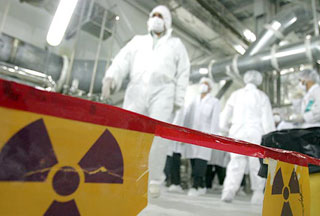 Iran has built a new generation of centrifuges which are currently undergoing technical tests, the head of Iran's Atomic Energy Organisation says.
"Iranian scientists have built new generation of centrifuges and cascades consisting of 10 centrifuges each. They are currently undergoing necessary tests," Ali Akbar Salehi told a news conference, Iran's official news agency IRNA reported.
He said that the cascades will be lengthened in the near future.
Salehi added that the output capacity of the new-generation centrifuges would be 10 times more than that of Iran's earlier standard centrifuges.
Iranian nuclear officials announced in August that the country has around 7,000″ centrifuges installed at its Natanz facility — a milestone from the 5,600 that were already in place."
In April, Iranian President Mahmoud Ahmadinejad had announced that Iran was testing two kinds of new generation centrifuges.