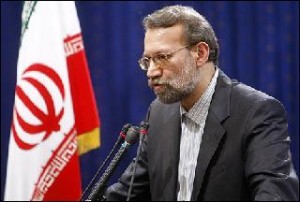 Iranian Parliament Speaker Ali Larijani has called for the setting up of a permanent committee to find a practical solution to the Palestinian issue.
Larijani, who was speaking at the Parliamentary Union of the Organization of the Islamic Conference (OIC) in Istanbul, said that the committee was needed to be formed to find a solution to relieve the sufferings of the Palestinian nation.
"Today, apart from finding a solution to counter the Judaization of Al-Quds (Jerusalem) and relieving the sufferings of religions, in particular Islam, it is upon us to work out a solution to [the sufferings of] the oppressed people of Gaza who are looking forward to assistance from the Islamic community and countries," Larijani said.
According to Larijani, the idea was first floated during the Islamic Inter-Parliamentary Union meeting held in January in Uganda.
He added that the West's unshaken support for Israel, in particular the US, was the main reason to have emboldened the regime in continuing its extremism.
He called on the global community, including the Islamic world, to find a "realistic" solution to the Palestinian issue.
The so-called solutions proposed so far, have been proved far from reality and thus a more practical solution has to be worked out, the top official said.
On the sidelines of the emergency meeting, Larijani also held talks with his Kuwaiti and Bahraini counterparts, during which he called on Muslim countries to build a united front against Israel.
The three-day meeting kicked off on Monday with the hope that it would find a solution to Israel's plan to expand illegal settlements.
Israel has been defying international calls to freeze its settlement activities, which are viewed as the main obstacle to an Israeli-Palestinian peace plan.