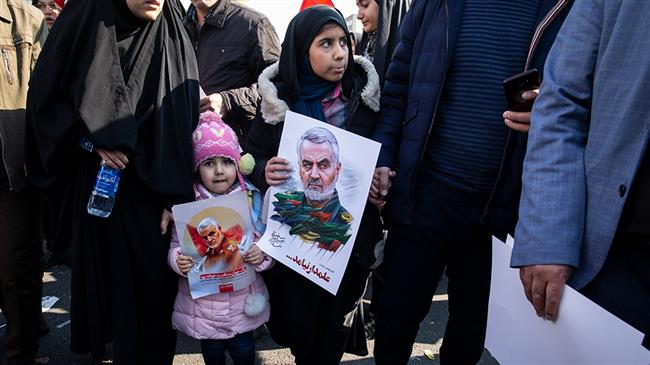 Iran's Ministry of Culture and Islamic Guidance has called for nationwide legal action against Instagram in protest at the American photo- and video-sharing platform's purge against the users reacting to the US's assassination of Iranian anti-terrorism struggle icon Lieutenant General Qassem Soleimani.
Since Friday, Instagram has been either deleting the accounts belonging to many Iranians, who have been using the social networking service to communicate their devastation at the tragedy, or eliminating relevant content posted by them.
Earlier that day, a set of United States drone strikes targeted the Baghdad International Airport, leading to the martyrdom of General Soleimani, the commander of the Quds Force of Iran's Islamic Revolution Guards Corps (IRGC), and Abu Mahdi al-Muhandis, the second-in-command of Iraq's Popular Mobilization Units (PMU), among others.
The Ministry issued the call on its website on Tuesday, saying the move by Instagram "once again served to prove [the US's attempt at imposing] a one-way flow of information and its new way of trying to enforce its rule through Washington-associated social networks."
"It showed that those who claim to be supporting a free flow of information, in effect, attach no value to the cyberworld users' freedom and rights," it added.
The Ministry urged those seeking to initiate legal proceedings against Instagram over the attack to register their complaints via: https://www.farhang.gov.ir/fa/instagrammediaterror.
General Soleimani cooperated side by side with the PMU in the face of the most deadly terrorist outfits to ever afflict the region, including Daesh.
The Islamic Republic has denounced Soleimani's assassination as "an act of state terrorism," saying it belies Washington's claim of fighting terrorism in the region. Tehran has said it reserves the right to respond in kind, and pledged not to abandon its contribution to regional counter-terrorism efforts.
Alireza Jahanbakhsh, Team Melli and Brighton & Hove Albion footballer, has been among those targeted in Instagram's purge.
Jahanbakhsh first had a post, in which he had offered condolences over General Soleimani's martyrdom removed.
He then shared another post protesting, "Why should Instagram remove the posts concerning someone who defends our borders and honor? This is incomprehensible….." The network removed the second post, too.
In mid-April, Instagram blocked the pages belonging to many of IRGC's commanders.