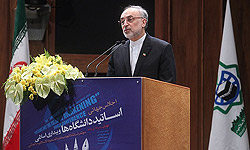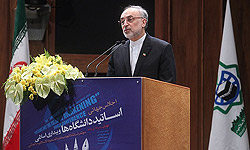 Iranian Foreign Minister Ali Akbar Salehi renewed Tehran's call for a negotiated solution to the existing crisis in Syria and Bahrain, and called on all parties to show commitment to talks.
Addressing the opening session of the International Conference of Muslim University Professors and Islamic Awakening here in Tehran on Monday, Salehi said "national dialogue" and parties' commitment to it will be the best way out of crisis both in Syria and Bahrain.
He pointed to the recent developments in Syria, and stressed the necessity for finding a political solution to the present crisis in the Muslim country.
"We have presented our proposal to Egypt, Turkey, Saudi Arabia, Russia and Syria, which includes cessation of hostilities and start of the national dialogue."
Salehi further condemned the terrorist attacks in Syria, and said irresponsible armed men have targeted Syria's infrastructures and assets and disturbed regional security by receiving and using foreign funds.
Tehran has recently doubled its efforts to settle the problems in Syria which has been experiencing unrests since March 2011 with organized attacks by well-armed gangs against Syrian security forces and border guards.
On November 18, Iran hosted the Syrian National Dialogue Conference, with the motto "No to Violence, Yes to Democracy".
Over 200 Syrian religious and political figures, leaders of tribes and parties as well as representatives and leaders of the opposition groups took part in the two-day meeting in Tehran.
A number of Syrian parliament members as well as senior political figures from Sudan, Algeria, Turkey, Egypt, Lebanon, Iraq, Brazil and Zimbabwe also took part in the meeting.
This was the first time that both Syrian opposition figures and the minister of national reconciliation Ali Haidar, as the representative of Syrian President Bashar al-Assad's government, discussed ways of finding a solution to the Syrian crisis.
The Islamic Republic of Iran is in favor of negotiations between the Syrian government and opposition groups to create stability in the Middle Eastern country.