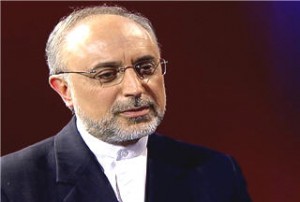 Atomic Energy Organization of Iran Director Ali Akbar Salehi says Tehran is definitely capable of enriching uranium to 20 percent.
Salehi made the remarks on Monday in response to French Foreign Minister Bernard Kouchner, who had described the plan as a political bluff.
Kouchner claimed that Iran does not have the ability to enrich uranium to 20 percent and accused Tehran of "blackmail."
But Salehi said Iran will begin the enrichment under the direct supervision of Intentional Atomic Energy Agency inspectors on Tuesday.
He went on to say that all the preparations have been made and the enriched uranium will be turned into plate-type fuel for the Tehran Research Reactor.
Iran's decision to enrich uranium to 20 percent provoked criticism from a number of Western countries.
US Defense Secretary Robert Gates is currently in France to push for a new round of sanctions on Iran over its nuclear energy program.
He and French President Nicolas Sarkozy have agreed to impose a new round of "strong" sanctions on Tehran.
Germany and Britain had earlier warned Iran of sanctions. Berlin has called on Beijing and Moscow to join other partners in pressuring Tehran. China and Russia oppose the efforts to impose sanctions and have called for a diplomatic approach.
Iran says that as a signatory to the nuclear Non-Proliferation Treaty it is entitled to enrich uranium for civilian purposes.
On Sunday, President Mahmoud Ahmadinejad ordered the country's nuclear organization to take measures to produce the fuel for the Tehran reactor domestically.
However, he stated that a nuclear swap deal with the West is still possible.
The fuel is to be produced at the Natanz enrichment plant.