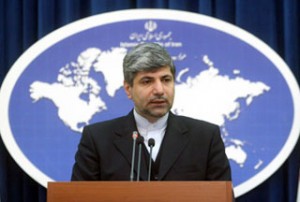 Iranian Foreign Ministry spokesman Ramin Mehmanparast challenges the Pentagon claim that the number of US nuclear warheads has been reduced to 5,113.
In an unprecedented move and coinciding with the opening of the UN Nuclear Non-Proliferation Treaty (NPT) Review Conference, the Pentagon published an account of its clandestine Cold War nuclear arsenal on Monday.
"Has [Washington] allowed a team of independent countries to investigate and verify this number to prove whether it is right or not?" Mehmanparast queried in his weekly press conference on Tuesday.
The Iranian spokesman made the remarks in response to a question on whether the Pentagon disclosure was a step toward transparency in global disarmament efforts.
He went on to ask, "Is possessing 5,000 atomic weapons justified? How can you justify possessing such a number of weapons which threaten world security?"
In line with the proposal put forward by President Mahmoud Ahmadinejad at the NPT review on Monday, Mehmanparast urged a timetable to be set for complete nuclear disarmament in the world.