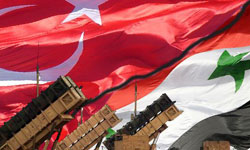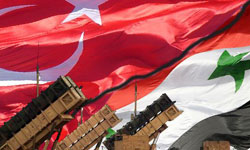 The regional states should avoid escalating the critical conditions in Syria, a senior Iranian foreign ministry official said after Turkey started military wargames along the Syrian borders.
Addressing reporters in his weekly press conference in Tehran on Tuesday, Iranian Foreign Ministry Spokesman Ramin Mehman-Parast referred to Turkish Prime Minister Recep Tayyip Erdogan's verbal attack against Syrian President Bashar al-Assad and Turkey's 10-day military maneuvers along the Syrian borders, and said, "The sensitive conditions of the region need the regional states' wisdom and any mistake which ignites military conflict in Syria will have heavily dire consequences for the region due to the complicated nature of the issue."
"The regional states would be better off if they make their utmost efforts to end conflicts instead of military moves and providing the ground for the trans-regional states' military intervention," he added.
Mehman-Parast reminded that stability in Syria will bring security to the neighboring states and their borders.
Syria has been experiencing unrest since March 2011 with organized attacks by well-armed gangs against Syrian police forces and border guards being reported across the country.
Hundreds of people, including members of the security forces, have been killed, when some protest rallies turned into armed clashes.
The government blames outlaws, saboteurs, and armed terrorist groups for the deaths, stressing that the unrest is being orchestrated from abroad.
In October 2011, calm was almost restored in the Arab state after President Assad started a reform initiative in the country, but Israel, the US, its Arab allies and Turkey sought hard to bring the country into chaos through any possible means. Tel Aviv, Washington and some Arab capitals have been staging various plots to topple President Bashar al-Assad, who is well known in the world for his anti-Israeli stances.