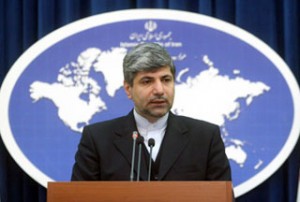 Iran has warned UAE officials that persistence in provocative remarks questioning the ownership of the three Persian Gulf islands of the Greater Tunb, the Lesser Tunb and Abu Musa could entail consequences.
Foreign Ministry Spokesman Ramin Mehmanparast stressed on Saturday that he doubted the accuracy of remarks attributed to the Emirati Foreign Minister Sheikh Abdullah bin Zayed al-Nahayan.
The Emirati minister had attempted to link Iran's ownership of the three Persian Gulf islands to Israel's occupation of Palestinian lands.
Apart from a temporary British rule in the 1800s, the three Persian Gulf islands are historically owned by Iran.
The islands were returned to Iran on November 30th 1971 through a legal process before the state of the United Arab Emirates was created.
Mehmanparast said Tehran is inclined to overlook the remarks in good faith, but warned against further provocation.
"Concerning the recent comments made about the ownership of the Iranian islands, I strongly advise UAE officials and other brother states in the region to employ utmost care in their words," Mehmanparast added.
He concluded that as the imprudent remarks have stirred raw emotions in Iran, it would be difficult to control public reaction to similar comments in the future.
A day after al-Nahayan's remarks, Mehmanparast advised Emirati officials to "refrain from making comments that serve the interests of the Zionists."