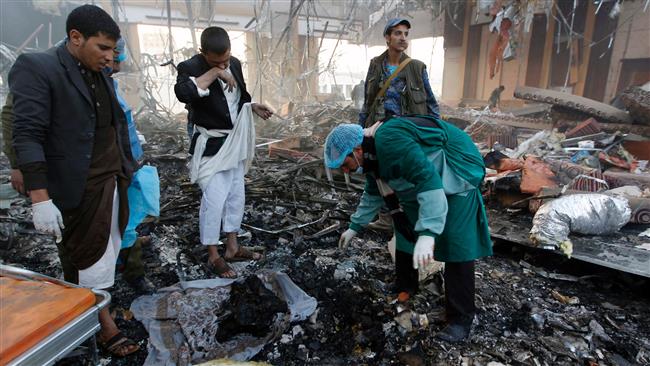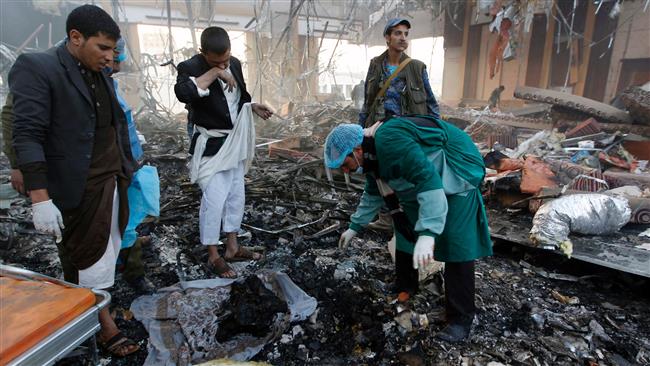 Iran has denounced Saudi Arabia's airstrikes against a funeral hall packed with mourners in the Yemeni capital of Sana'a which left tens of defenseless civilians dead.
Iranian Foreign Ministry spokesman Bahram Qassemi said on Saturday that the international community is still keeping silent on Saudi's military aggression and the killing of Yemenis for one and a half year.
"In order to put an end to the fabricated crisis in Yemen, there is no way but to stop the belligerent nature of brutal Al Saud aggressors and begin serious dialog with the participation of all Yemeni sides," the Iranian spokesperson added.
He expressed Iran's disgust over such an inhumane and heinous crime and sympathized with the families of the victims.
Yemeni media said on Saturday that at least 100 people had been killed and more than 566 others wounded after Saudi jets conducted at least nine airstrikes on Khamis street in southern Sana'a.
The Saudi missiles tore through a hall in Sana'a where a funeral for the father of Interior Minister Jalal al-Roweishan was being held, destroying the building.
In September last year, Saudi jets bombarded a wedding ceremony in the town of Mokha in the southwestern province of Ta'izz, killing over 130 civilians. The victims were mostly women and children.
Saudi Arabia has been engaged in a deadly campaign against Yemen since March 2015. Riyadh's aggression, which has killed more than 10,000 in Yemen, was launched in an attempt to restore power to Abd Rabbuh Mansur Hadi, a staunch ally of Riyadh who has resigned as Yemen's president but seeks to force his way back into power. The campaign also seeks to undermine the Houthi Ansarullah movement.